Elvis Presley And One Of His Martin D-28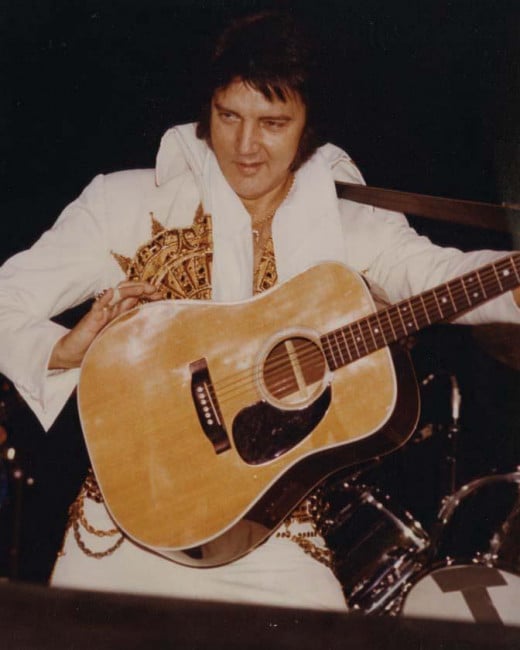 The King, and The King of Acoustic Steel String Guitars.
Four years before the birth of Elvis Aaron Presley, C.F. Martin & Company created a body template for the acoustic steel string guitar which would prove to be the single most successful template for such an instrument ever created. To this very day, so many years later, the Martin D-28 is the most copied design of steel string guitar in the world. Elvis Presley was a genre busting music and film star who was the ultimate symbol of pop culture in the USA from the time discovered by Sun Records until the time he died on August 16, year of our Lord 1977.
Myself, I grew up listening to Elvis because my father was forever into his music and music from the
1950s
. I also grew up learning to revere and respect the guitars made by C.F. Martin & Company, and Gibson Guitars. I learned that from the time spent and music appreciated by my maternal grandfather. Elvis was a proud symbol of the USA in his lifetime, and he was proud to represent the best we had to offer, so it is little wonder he'd be performing in studio, on stage, and in film with America's best guitars; and in the end some estimates say he sold over
one billion records
doing it. It is then rather fitting that America's most respected guitar manufacturer return the favor in tribute and in specific model of instrument, The Martin D-28 Elvis Presley
Elvis Presley Limited Edition Martin D-28 Acoustic Guitar. This instrument is modeled after Presley's 1955 Martin D-28

There are two distinctly different Martin D-28s made as Elvis Presley models.
If you were to ask or enter the question into Google or another prominent search engine, "what guitar did Elvis Presley play?" Well, you'd get a lot of answers. Let's be honest about this, Elvis was a worldly man with a lot of money, and he played whatever damned guitar he wanted to play. No doubt about it, Elvis had lots of guitars. He'd been photographed and recorded with lots of guitars, and most of them were either Martin guitars or Gibson guitars. It would be many years later the other great American guitar manufacturers other than Fender really became so well known and prominent in the pop or popular rock genres.
This is important, and I want the reader to realize this straight away, there's not just one exact Martin D-28 Elvis Presley model guitar out there. There's more than one, Martin has created more than one issuing of very different sorts of guitars with Elvis Presley's name on it; but make no mistake, these guitars are ALL collectible, and they are all based on the D-28 format of steel string acoustic dreadnought guitar. Some of these Elvis Presley D-28 guitars by Martin are far more ornate and feature more woodworking and decoration than other issues do, likely, the ones with the less work done on them have more utility for the actual player. If your desire is to have a guitar to show people, get the most decked out with engraving, inlay, and binding and signatures instrument you can find; but if you are more an actual guitar player, you want the guitar that sounds and plays the best to your personal style of playing.
The first of the two D-28s made as Elvis Presley signature models looks much the same as virtually every D28 from the 1970s, and men such as
Jimmy Page
and Johnny Cash were forever playing instruments almost just like these. The first example is most like the guitar Elvis is holding in the very top photo, another example, the more ornate and probably more collectible and less usable guitar, can be seen
here
, and is like the second image of a guitar you see on the page as you go downward reading and viewing. My research is showing me the two primary D-28's which Elvis owned and performed with were a 1955 model and the 1972 model. The actual 1972 model D-28 which Elvis used to perform in his last ever show in Los Vegas is the instrument I'm going to provide specifications for, and that guitar sold at auction for
$90,000 dollars
Elvis Presley With His 1972 Martin D-28
The Martin D-28EP, a replica of the 1972 D-28 owned by Elvis Presley.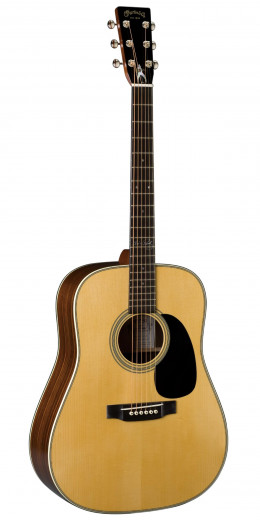 The Martin D-28EP
Now be it known there is a .pdf document available for your perusal should you choose to download it from the official C.F. Martin & Company website, and you can absolutely get that document right
here
. The .pdf is for the D-28 modeled after the 1972 D-28 Elvis owned and played, the other instrument, a copy of the 1955 model which has all the engraving on the top isn't an instrument I would think anyone serious about making music themselves would or even should want to own - unless they just wanted to own it to hang it on a wall and show it to people or something like that.
The soundboard of an acoustic guitar is the single most important thing such a musical instrument, and one doesn't go engraving things on it should one want to make actual music with the thing, for this reason I'm not interested in the replicas of the 1955 Elvis owned D-28, and I don't think you should be either. The replicas of the 1972 D-28 which wasn't tampered with so horribly is the guitar I'm going to be discussing from here on out exclusively on this article - as it IS an instrument which is both beautiful and well suited to making great music with. I also think it important that I make clear and the reader understands this is NOT a replica in any way of the famous
pre-world war two Martin D-28 guitars
, this is a replica of a 1972 D-28, and that is a different guitar altogether for several reasons.
Like I said, the most important part of an acoustic guitar is the top of it, the soundboard. This guitar is a VERY interesting guitar, and the single most interesting thing about it, in my opinion, is the wood used for the soundboard, and it is Carpathian spruce. This is the only guitar I am currently familiar with which uses that particular variety of spruce, and you can rest assured there is something tonally different in the wood from other varieties of spruce. Most modern D-28's are of Sitka spruce tops, but for about one to two thousand dollars more, you can get one with Adirondack spruce in the form of either the D-28GE, or the
D-28 Marquis
.
It's very important the prospective buyer of this instrument understands the bracing pattern on this guitar is not like the ones used before the second world war, and is also not like the ones used on more modern D-28's either, this is not a herringbone trim instrument at all, and neither is it a "high x" braced instrument, as the herringbone trim as a rule is used on the "high x" instruments. This guitar will sound different from those forward shifted X braced or "high x" guitars. The rest of the specifications are as follows, and I'm pricing these on the web for about $4,000 dollars.
MODEL D-28 Elvis Presley
CONSTRUCTION: Mahogany Blocks/Dovetail Neck Joint
BODY SIZE: D-14 Fret
TOP: Solid Carpathian Spruce
ROSETTE: Style 28
TOP BRACING PATTERN: Standard ''X''
TOP BRACES: Solid Sitka Spruce 5/16''
BACK MATERIAL: Solid East Indian Rosewood
BACK PURFLING: Style 28
SIDE MATERIAL: Solid East Indian Rosewood
ENDPIECE: Grained Ivoroid
ENDPIECE INLAY: Black/White Boltaron
BINDING: Grained Ivoroid
TOP INLAY STYLE: Multiple Black/White Boltaron
BACK INLAY: Black/White Boltaron
NECK MATERIAL: Select Hardwood
NECK SHAPE: Low Profile
NUT MATERIAL: Bone
HEADSTOCK: Solid/Diamond/Square Taper
HEADPLATE: Solid Black Ebony /Elvis Presley Graphic Silhouette - White & Black
Mother Of Pearl /Large Old Style
HEELCAP: Black Micarta with TCB Lightning Bolt Inlay In Mother Of Pearl
FINGERBOARD MATERIAL: Solid Black Ebony
FINGERBOARD WIDTH AT NUT: 1-11/16''
BRIDGE MATERIAL: Solid Black Ebony
FINGERBOARD POSITION INLAYS: Stars - Select Abalone (Bordered In M.O.P.) at 5th, 7th, 9th, 15th & 17th Frets
FINISH BACK & SIDES: Polished Gloss
FINISH TOP: Polished Gloss w/ Aging Toner
INTERIOR LABEL: 2 Labels- 1 Elvis Label w/ Holographic Elvis Sticker Numbered In Sequence, 1 Album Cover Label