A Kyser capo in gold. Kyser 'quick change' capos are the world's preferred capo.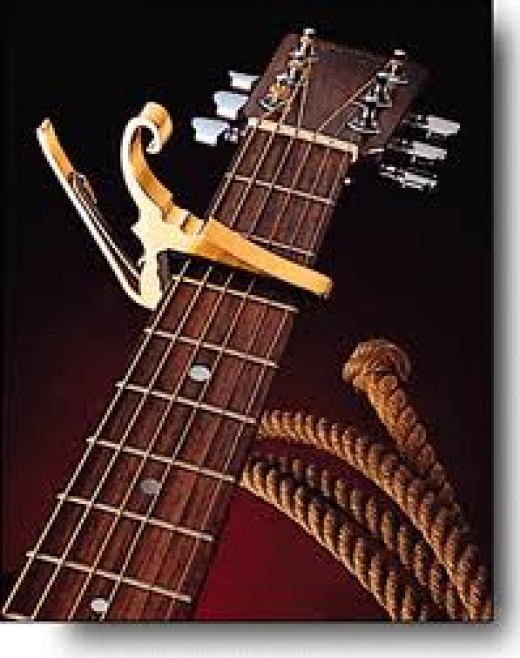 Today at the Grocery Store.
Yesterday I'd turned in a job application at David's , in Kaufman, Texas; it's the smaller of the two grocery stores in Town. Today, my Mother and I went back to fetch some groceries. Yes, we use words like "fetch," in reference to groceries. . .but not on the internet or anything. That might be embarrassing.
So, like I was saying-we were at the grocery store, and I applied for a job. Yes, I'm a very experienced HVAC service guy. You have to understand that this is the beautiful time of the year in north east Texas, and nobody needs me. I'd be lying to say that I don't enjoy a break from that stuff. This time of year, the break is provided, the plethora of oak trees, the elms, the imported pines, the pecan trees-it's beautiful, and the temperature is very mild. Facts are, all you need is a light jacket during the day, and a warm blanket at night.
At the grocery store my Mother spotted a very elderly woman, and it turns out(no surprise for me) that she knew her. The elderly woman went on and on and on about how wonderful one of her grandchildren was, and that granddaughter was someone I had went to school with. I reminisced with a sigh how in my youth I'd discovered that half the attractive women in this town. . .were relatives.
She's got a job working for Mr. Kyser.
This is how this hub about the Kyser capo company was born-but not really.
Kyser capos are made in Kaufman, Texas.
I've played the guitar, more specifically, the acoustic guitar , since I was twelve years old. I already owned a Kyser capo, and a few other capos; and I'd laid eyes on perhaps a million and one half Kyser capos before that Christmas get together with the family.
I knew that cousin Kelley, who was married to John, was an accountant. I knew that John was also an accountant. What I didn't know was that John dealt with the Kyser Capo company, and I had no idea that that company was located just outside of Kaufman. For all intents and practical purposes. . . it's a company out of Kaufman, Texas. My head sort of exploded at the newfound knowledge that the world's best known, most used, and most loved capo was a hometown product. I found this out when John started handing out capos to the family of appreciative amateur musicians.
Thank you, Sir, may I have another?
The Kyser Quck Change Capo
Should you be a stringed instrument aficionado such as myself-then the Kyser capo needs no introduction or description. It isn't the fanciest capo on the market, it's probably one of the least expensive that you can buy. The Kyser Capo is, however, very durable. If you ever needed to buy another one. . . then you just wanted a different color Kyser capo than the one that you already had, or you lost your Kyser capo, and need a replacement. The thing will never wear out.
The Kyser capo is indeed the best known capo in the entire world. It's the easiest capo to use out of the million and three quarter capos that I've seen and laid hands on, and you're doing yourself a disservice should you be overly attached to that capo that that other brand failed to make as sturdy or convenient as the Kyser model. The people of Texas, and more specifically, Kaufman, Texas-are full of ingenuity, surprises, and outright genius based on simplicity.