S.L. Mossman Signature Head Stock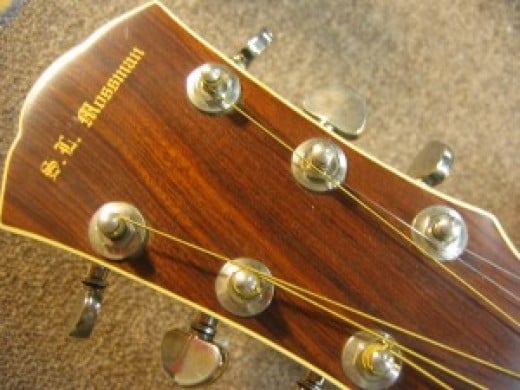 A Taylor, A Martin, and A Mossman - Three Fine American Guitars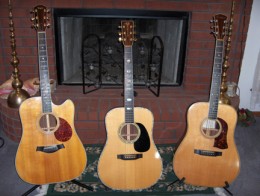 S.L. Mossman
Once in America there was a major innovator and vocal builder of very fine acoustic guitars, and his name was Stuart Mossman. Big name artists such as John Denver, Eric Clapton, Albert Lee, Doc Watson, Hank Snow, Cat Stevens and Merle Travis. were all players of his instruments, and were they still in production today, there would be many many more.
Growing up I was forever listening to my grandfather talk about acoustic instruments, and though I don't recall him ever owning a Mossman, I sure recall my grandfather talking about them. What I most specifically recall is the tale of the disastrous fire that burned all of Stuart Mossman's stock of high quality woods. Most particularly bad was the loss of a large stock of high grade Brazilian rosewood. Today
Brazilian rosewood
is sort of considered a holy grail type wood for guitars and guitar building, and one can easily spend a minor fortune on a guitar built with it's back and sides of that wood.
A Beautiful Mossman Acoustic Dreadnought - Very Very Fine Guitar!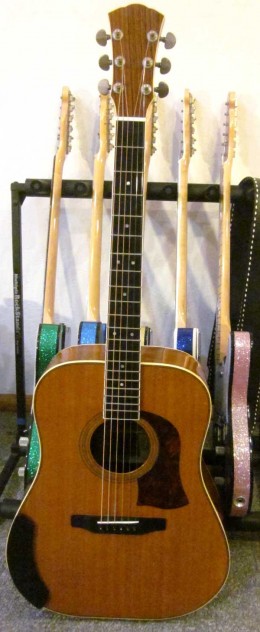 Mark O'Connor With His Mossman Golden Era Guitar!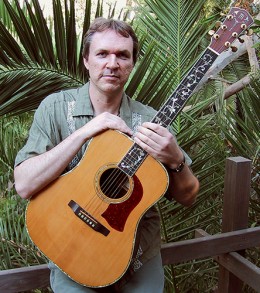 Stuart Mossman
Starting in around 1961 Stuart Mossman was making guitars in his garage in Winfield, Kansas, and this is rather proper, you see, as Winfield is the home of the largest folk festival in the Americas, the Walnut Valley Music Festival, which everyone should see at least once in their lives, if interested in this sort of article. Stuart realized that the folk boom of the
1960s
had brought in a huge market for the kind of acoustic guitars that companies like C.F. Martin & Co., Gibson Guitars, and Guild Guitars had been making for years, and his goal was simple - to out do them all and make the finest acoustic guitars imaginable.
Of course the kind of acoustic guitars I'm talking about here are the steel string dreadnought guitars that persons such as Doc Watson were playing flatpicking style music.with, but the instruments are used in all manner of music under the Sun as well. Mossman took his first steel string flat top to Watson and asked him to give him
brutal feedback
, and he did, but when Mossman brought Doc a second guitar later, Watson told him it was "the second best guitar he'd ever played."
Stuart Mossman was adamant about some aspects of acoustic guitar building, and I agree with him in a very exact way - laminated woods used in the backs and sides of instruments are perfectly fine for the folks who can only afford a guitar with a solid top or sound board, but they should never be passed off as guitars made of all solid wood. An all solid wood constructed acoustic guitar is always a prize instrument, and should always be treated with great care, as an investment or an heirloom even. Here is what Stuart Mossman had to say about what he called "plywood instruments:"
"The vile abomination is currently being perpetrated on the unsuspecting guitar-playing public on a grand scale. There are so many of these plywood things on the market at this writing that there is a possibility you may not have even heard a real guitar. We at Mossman considered plywood briefly one day, and unanimously decided that plywood makes the best cement forms available. We do not know, nor will we ever, stoop to the level of plywood construction and we apologize for our contemporaries who have lowered the station of out craft by using laminated backs and sides."
Though the fine guitars of Stuart Mossman did indeed compete or even out perform (this is truly subjective) his competitor's guitars, Mr. Mossman had never intended to compete with a big company like C.F.Martin & Co, rather, Mossman always wanted to inspect for himself every single instrument his company produced, and his company had grown quite a lot larger than just himself in his garage. Stuart Mossman was so very conscientious about his name and his instruments with his name on them, that he limited production just so that he could inspect every instrument prior to shipping..
Stuart Mossman Guitars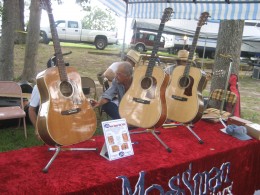 Stuart Mossman: A Modern Stradivari
In 1975 Stuart Mossman suffered a tremendous loss - his entire factory burned to the ground with a few guitars and all of his wood. No one was injured, and Mossman had luckily secured a large sum of money in the form of a loan prior to the fire, and the money was spent, obviously, on rebuilding his factory rather than what he'd borrowed it for. The loss of his large stock of Brazilian rosewood was not something the money could provide to replace, and so Stuart Mossman decided to start using the less expensive and easier to get East Indian rosewood.

Maybe Stuart Mossman had been over stretched in his business endeavors, but the facts are he was sued for what appears to be a matter of neglect - he'd had a contract with another guitar company for production of instruments, and he produced the instruments just as he said he would - the problem was that the instruments were stored in a warehouse in Nevada without proper temperature and humidity controls, and so the finish on the instruments were all rather defiled by the elements and cracked. While the issue with the finish wouldn't make the instruments sound less beautiful, refinishing a beautiful acoustic guitar is the single most difficult thing imaginable for such an economic asset or investment. The situation was a disaster for all parties involved, and Mr. Mossman would soon retire.

If you'll have a look at the picture above with Mark O'Connor and the Mossman Golden Era guitar you can see the vast intricate inlay of abalone shell, such shell is now known to be very deadly to a guitar producer to cut - and the breathing of the abalone dust is the exact issue, but perhaps that wasn't known during Mr. Stuart Mossman's days as a world famous acoustic guitar builder, but the facts are the same - his health was deteriorating rapidly from the exposure to chemicals and elements involved in the building of his guitars. Stuart Mossman died of heart failure at the young age of 56. He'd become known as a modern day Stradivari, and his instruments are among the most sought after musical instruments in the entire world.
Stuart Mossman (May 13, 1942 - March 2, 1999)
Rest In Peace.