There are some that say that the Gibson J 200 is the world's best known guitar. I don't think so, I think that the Martin D 28 is the world's best known, and most sought after guitar. The D 28 is the standard setting instrument in steel string acoustics, and it always has been - and continues to be. There are now so many companies making so many variations on the classic D 28 design that it boggles the mind. Martin itself makes many varieties of the D 28, and all of them are wonderful guitars.
The Standard for Acoustic Guitars and Flatpickers, The D 28 by C.F. Martin & Co.
From the time I was twelve years old up until the time that I was a senior in high school, in Kaufman, Texas-I played the acoustic, and sometimes the electric guitar constantly.
My first name brand guitar was a Gibson LG-O, that my grandfather, Argus Troy, "A.T." Coker bought for me. The problem with that guitar was that I got it before my teenage growth spurt set in, and as I grew larger. . .. that guitar became too small for me, and the time came for an upgrade, not only in the size of the instrument I needed, but the quality of instrument as well. I was playing non-stop then, and it seemed a realistic possibility that I might turn out to be a professional musician.
It's not that the Gibson was a "bad" guitar, Gibson doesn't MAKE "bad guitars." The thing was just too small for me, and I was quickly turning into an impressive flatpicker at that time-and the Gibson wasn't a guitar that produced a loud, clear enough tonality for my talent or playing to be heard-especially when playing with other people. Acoustic guitars are never as loud as a fiddle, a mandolin, and certainly not loud enough to be heard
alongside
a banjo.
Luckily for me, my guitar instructor, a man named Scott Miller, was very well liked by my entire family, and indeed, the entire community here in Kaufman, Texas. Scott went to my parents, and my grandfather and said something like, "Look, Todd has some real potential-and what he really needs is a professional quality guitar on the level of a Martin D-28."
The C.F. Martin & Co. D 28 Vintage Reissue. I've owned one - very tough to beat.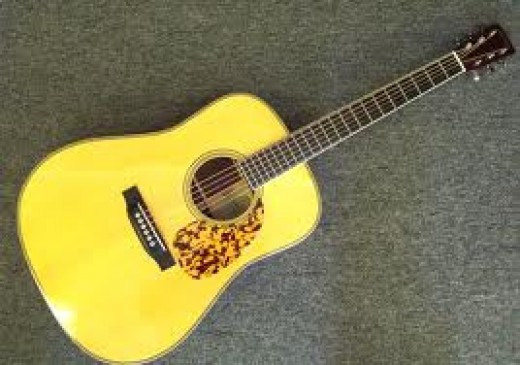 The Martin D 28 - It's an American Classic with more years of credibility than the competition.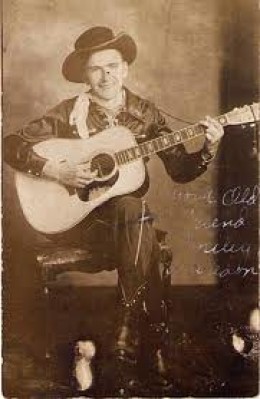 Martin Guitars-Legendary for Sound and Playability.
No, the statement by Mr. Scott Miller, my guitar teacher didn't alert me to the quality of Martin guitars, or their D-28. It was something that I'd long been aware of from spending countless hours with my grandfather, A.T. Coker. In fact, I already knew much of the history of C.F. Martin & Co because of him, and I even knew a lot about tonewoods, and bracing, and even more. What surprised me was that I'd achieved a level to where folks would actually present the idea in public that I should have such a fine instrument!

C.F. Martin & Co. has ALWAYS been the standard by which other guitars were measured, but I'm not exactly certain when the D-28 became their standard bearer. I suspect that it was in the 1960s when Doc Watson, and Clarence white-and the folk music revival became a cultural phenomenon of benefit to us all.
The D 28, Solid Spruce Soundboard, High X Bracing, and Solid Rosewood Back and Sides.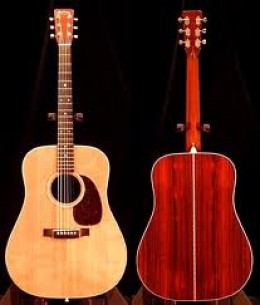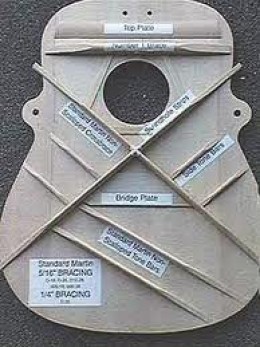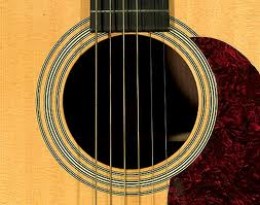 Essential Specifications, and The "High X"
So Todd, what is it that make the Martin D-28 so special, besides the company that you seem to think so highly of, and the fact that it's a pop culture item in the world of acoustic guitarist?

Well, first of all, the D-28 is a full sized "flat top," or dreadnought guitar that is designed for folk and bluegrass style guitar playing. It's constructed of all solid wood-which in and of itself makes it a very fine, expensive, heirloom quality instrument. It's a "steel string" guitar, which means that, basically, it's not a classical guitar, or a guitar that you put nylon strings on-but there is absolutely no limitations to the types of music that can be, and are played on the Martin D-28. As for names of the famous, and not so famous, but equally great guitarist and musicians that own, and play this wonderful instrument-the list is too long to ever have been created. The chief and essential specs of the Martin D-28 are that it has a solid spruce

soundboard, and solid rosewood back and sides. There are, however, many different combinations of rosewood and spruce that have been used in the past, and are still being used today in this model guitar.
Besides the solid rosewood and spruce, the "X" brace is an essential design characteristic of the Martin D-28, and the picture to the right is more specifically, of the HIGH X BRACE. There was a time when Martin guitars deviated from there classic "high x brace" and went to using what I'll call "merely an x brace." The thing is, the classic high X brace allows the solid spruce soundboard to vibrate more freely, and produce a longer sustaining, louder, more quality tonality.

The next picture down is a closeup of the D-28 soundhole, and it's herringbone trim. Again, there have been D-28's produced without the herringbone trim, and those are typically the D-28 guitars that also do not feature the high X bracing. Those guitars without those specs are still bound to be wonderful guitars-but they may be more useful as a rhythm guitar, rather than a guitar that will be used for playing leads.
Wesman Todd Shaw, and His Santa Cruz D 28 Copy.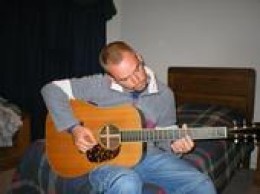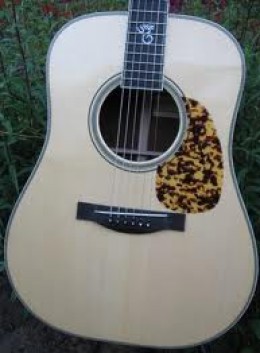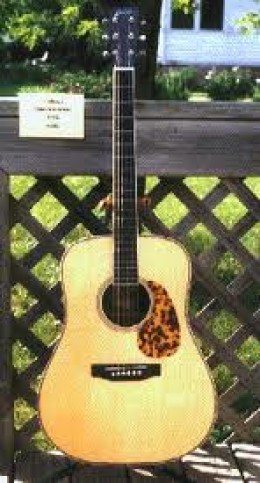 The Highest Form Of Flattery.
There are literally more luthiers and small, or even large companies making variations or outright copies of the D-28 than I could ever mention in one single hub. I owned a Martin D-28 Vintage Reissue at one point, and it was truly a fabulous guitar-that I purchased new for less than two thousand dollars. Martin makes many D-28s, and if one wanted and was able to go all out that person would be buying the Martin D-28 GE, or "Golden Era," which features the Brazilian rosewood back and sides, and the Adirondack spruce top. The Golden Era guitar, take a deep breath, sells for around $9,000.00
So, if you recall the story up above-about me, and needing a great guitar that would last me the rest of my life. . .what did I wind up with? Well, I saved my pennies, and I saved my dimes-and I landed a winner that I've never thought once about parting with, and it's made by the wonderful Santa Cruz Guitar Company, in Santa Cruz California-where they still hand make their guitars.
If you'll notice the guitar underneath the picture of me and my Santa Cruz, you'll be looking at what I call a "super D-28," and it's the
Santa Cruz Tony Rice Model Guitar.
Look at the picture below that one, and you are seeing another "super D-28" and it is a Collings Clarence White guitar. Let me explain: The TonyRice model Santa Cruz, and the Collings Clarence White model are virtually identical as they are both copies, VERY fine copies of one particular guitar, and that is the 1935 D-28 that belongs to Tony Rice.
Huh? Then why is one called the "Clarence White Guitar?"
Because Clarence white was killed by a drunk driver a very long time ago, and Tony Rice owns his guitar now. It's probably the single most famous Martin D-28 in the world. I should also mention that neither one of these guitars match a classic D-28, as they were designed to match the particular one that Tony Rice ownes-and that one has been modified a good bit. I'll also mention here that I bought my guitar from John Hollman, the man who designed the Collings Clarence White for Bill Collings-who I've also met on one occasion. Any and every D-28, or accurate D-28 style guitar is bound to be a wonderful instrument should it be constructed with the traditional solid woods mentioned.
Conclusion
I hope you've enjoyed reading some here about the famous American guitar Icon, the Martin D-28, and the two other TOP OF THE LINE companies that also make a D-28 style guitar, and in fact, they each make SEVERAL D-28 style guitars. Please don't be upset if I've left out your favorite company, and it's D-28 style guitar-there are far too many for me to even mention the ones that I know about, and have had my hands on. We'll do them justice another time. As always, never hesitate to contact me with any feedback or suggestions in the comments, or with a message. Thank you!