An Introduction To The Elements of Fine "Flat Tops."
I should start this off by naming what I mean by high end, when I talk about high end acoustic guitars, get your wallet out, I'm starting at about $1,500.00 new. It's true, you can get a great guitar for less, but you'll only get one at the level of quality which I shall discuss "used"-should you spend less. No worries there, used instruments are often broken in, and this increases the quality of their sound, and thus the enjoyment for the player.

Second, just what on Earth is a flatpicker, and what is flatpicking? Simple, a flatpicker is someone who plays melodies on an acoustic guitar with a pick, plectrum, or whatever you wish to call it. Flatpicking, however, can be done with any music you desire. Typically, flatpicking is associated with folk, bluegrass, traditional Appalachian, jazz, and public domain music

For all intents and practical purposes, flatpicking is most often done using a dreadnought guitar, though there is absolutely no reason why it can not be done on a guitar of any size. Not only is it typically done on a dreadnought, it is typically done on an acoustic guitar with the standard fourteen frets on the neck of the guitar clear of the body. Great guitars also come designed with just twelve frets clear of the body, and great flatpickers sometimes prefer this design. Norman Blake, in particular, has become in later years the prominent flatpicker who chooses this design over the standard.
The Martin D 16 and the Ovation Adamas are Both High End Acoustics That Flatpickers Play.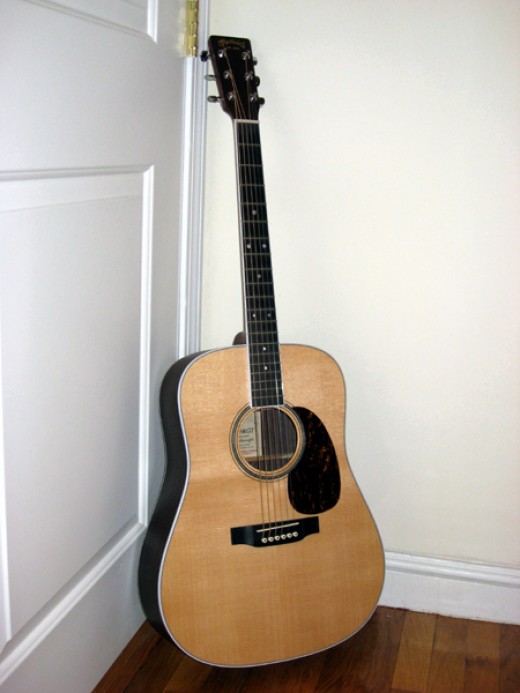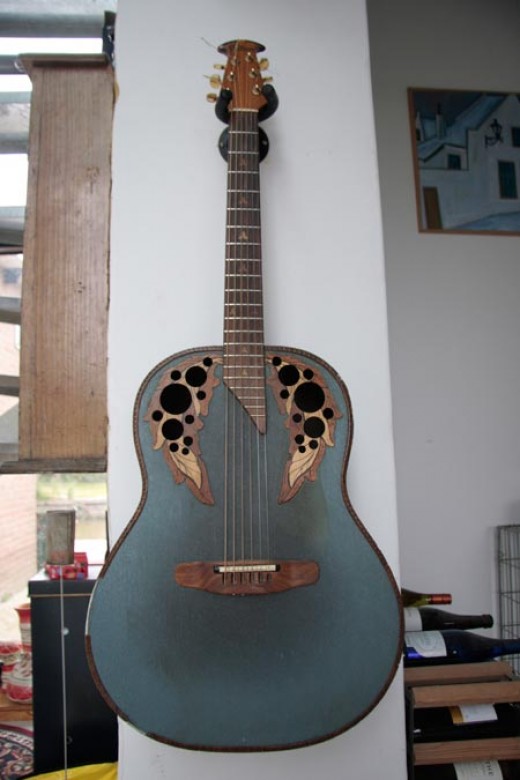 The Classic Headstock of C.F. Martin Flat Tops, a Stradivarius Violin, and The Author with his fine Santa Cruz Model "D"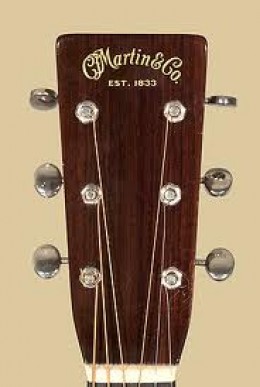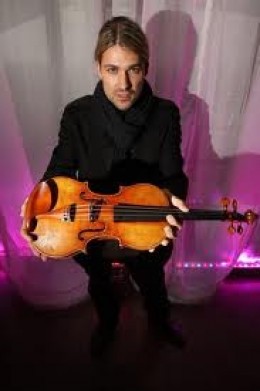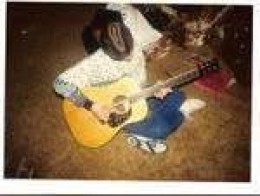 C.F. Martin & Co.
Though it can't be helped, it's my intention here to discuss guitars, and not so much guitarist, and believe me, I'll let you know my preferences-but any discussion of high end acoustics should start with C.F. Martin & Co. The Martin guitar company is the benchmark by which all others are measured, and most likely, this will always be the case. I've heard it said that the Martin Guitar Company is the oldest company in the United States of America. I'm not certain if that is true, or not, but I assume that it is.
There are some more important historical details that should be shared here concerning
Martin Guitars
, and they are significant in many different ways. First and foremost the Martin guitars produced before World War Two are widely considered the finest flatpicking instruments in the world, and their value reaches as high as the consumer's desire and ability to spend. These are bound to be exceptional instruments in every way, and the legend of these guitars has nearly reached the legend of Stradivarius n regards to the violin.
"Man, that guitar sounds
amazing!
Is that a
pre-war?"
I'd heard this comment directed towards ME, of all people, as I entertained a family at the Walnut Valley Festival years ago-out in the campground, and cold beer was my pay.
"No sir, mine is a Santa Cruz," I'd replied.
But lets get to the not so perfect facts about the
Martin Guitar
Company: Martin offers a lifetime warranty to anyone who purchases one of their guitars new, and this warranty is only for the original owner. That sounds great, right? Well, fine guitars are fragile things, and wood has to vibrate in order to produce sound. Over time Martin began to build their guitars sturdier. .. .and this caused them to loose the quality of sound that they were known for. No worries, in more recent years Martin realized their error, and completely turned production around. I'm not sure of the dates when their guitars were in decline, nor the date on which they began to make them wonderful again. Even if I were intimate enough with the details to provide those dates for you, I wouldn't. Why? Because every single guitar ever made is unique, and no two guitars are equal. A guitar built during Martin's less than stellar years may well be better than a specific comparable guitar from earlier, or more recent years. In the aftermath, another thing that's happened is that now fine acoustic guitars are being produced by so very many luthiers that we are now in what I consider "the golden age" of guitar production.
Gibson Acoustic Flat Top Guitars, and a Walnut Valley Flatpicking Champion!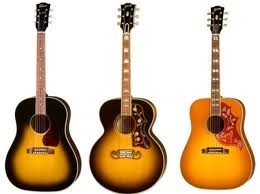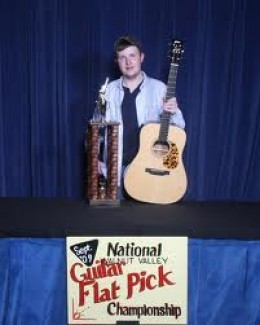 The Gibson Guitar Company
The
Gibson guitar
company is another fine old American company that makes high end acoustic guitars. It is my opinion and my experience that these guitars are not nearly on the same level as a comparable guitar made by C.F. Marin & Co. Please don't yell at me, and put your pistol away, please-you are making me nervous.
Gibson guitars
are fine guitars, they hold great value, and are very visible on CMT, etc; that, however doesn't make them great guitars for flatpicking. Three times in my life I've been lucky enough to visit the Walnut Valley Festival in Winfield, Kansas. Often times, this festival is referred to simply as "Winfield." At the festival, which falls on the third weekend of September every year, they hold the WORLD contest for flatpicking, and should you go to see this amazing spectacle, then you'll not see a viable contestant playing one single Gibson guitar.
The top three winners in that contest gets their pick, first gets first pick, obviously, of the fine, high end guitars that they've got for prizes; and none of those will be Gibson guitars either. The guitars aren't the extent of the prize though. Gibson, however, is far and away a great guitar company, and one that leads the pack in the production of fine, high end, electric guitars, such as the Les Paul, and the SG. The second guitar that I ever owned was a small Gibson that fit my small frame then-and rest assured, I loved it. I tend to think that the Gibson acoustics are voiced more for fingerpicking, and strumming. Think of Jimmy Page playing "Babe, I'm Gonna Leave You," from
Led Zeppelin I
Some of the many tonewoods used for Flat Top Acoustic Guitars!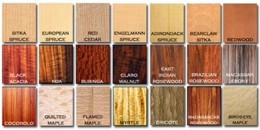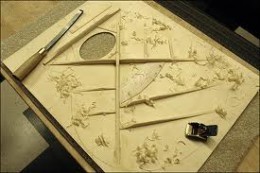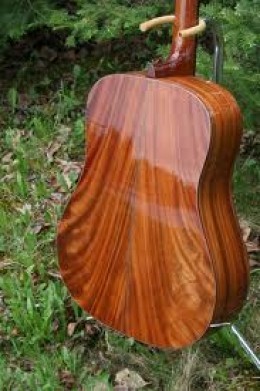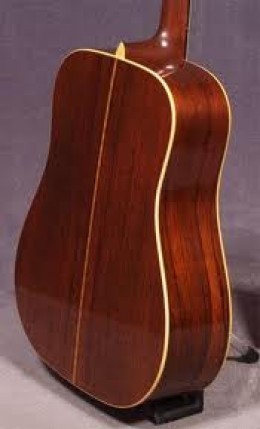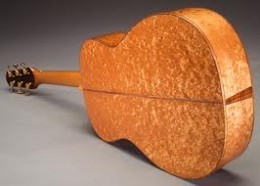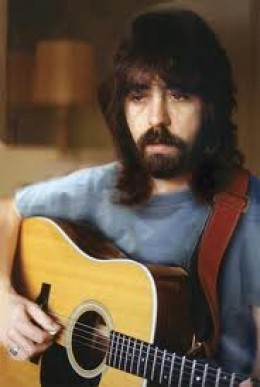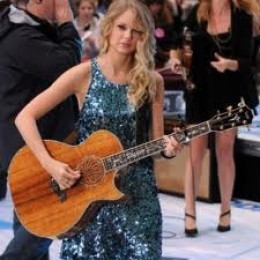 Tonewoods
So what is it that makes a guitar special, or at least, what makes a guitar a studio or contest quality guitar for flatpicking? Primarily, there are two things that are always present in these types of instruments. Great, solid tonewoods, and the way in which the guitar is built. Perhaps you've never once considered the wood with which a guitar is constructed. The wood, my friend, makes the guitar almost as much as the luthier who built it. There are too many great tonewoods for me to mention in the ideal sized hub, so I'm going to stick to the basics. Maybe another time I'll delve into the alternative tonewoods that are becoming increasingly common due to the deforestation we've wrought with our greed and stupidity.

For the ideal flatpicking guitar you'll always be dealing with a solid spruce soundboard. Great guitars are always constructed with solid wood, and though not all great guitars have solid spruce soundboards, all great flatpickers use guitars with solid spruce tops. Why? Spruce, SOLID spruce soundboards project notes louder and clearer than any other wood used. Cedar is sometimes used as a soundboard for fine acoustic guitars-but cedar is often "over-driven" by the heavy attack that a flatpicker uses with his or her pick, and this distorts the sound, and makes cedar a wood more associated with fingerpicking, and fingerpickers.
The solid spruce soundboard, as hopefully I've stressed enough here, is the most important feature in any guitar that will be used for flatpicking. There are many different kinds of spruce though, and there are many different opinions as to which one of them is superior. Generally speaking, Adirondack spruce is the favorite, and, of course, the most expensive. My Santa Cruz guitar that you see me playing at top has a much more common breed of spruce used as it's soundboard, Sitka spruce. What's uncommon about my beautiful and rare Santa Cruz is the wood used for it's back and sides, which is Brazilian Rosewood.

So obviously, what comes next, since we know that great sounding guitars are made from great, solid tonewoods, is the type of woods used in the construction of the back and sides of these instruments. Typically, these guitars are going to be made from either a kind of Rosewood, or one of Rosewood's cousins, or Mahogany. These great tonewoods have very different properties, but before I get into that, I'll say a little bit about Rosewood. Brazilian Rosewood, as I understand it, is illegal now to either import or export, because it's an endangered species of tree. The physical beauty of Brazilian Rosewood is beyond question, and the specific tone that it ads to an instrument is dark, rich, and down right mysterious. Brazilian Rosewood guitars are still being made, but brothers and sisters, you'll have to dig deep to buy one. These guitars usually START at around $5,000.00. Do not fear or fret(unless you're fretting a note, of course!) you can still own a great rosewood guitar because Indian Rosewood is very much available.

As previously stated, Mahogany is the other top choice for fine flatpicked guitars, and Mahogany offers a much "brighter" more immediate tonality than does Rosewood of any kind. Mahogany, it seems should be the type of wood that a picker would prefer, and Rosewood the ideal wood for a rhythm guitar. I can explain all of that-the preference for Rosewood guitars lies completely at the hands of the great Tony Rice, and his ownership of an amazing guitar, that was once owned by the late, great Clarence White. The legend of this pre-war Martin D-28, and it's sound has made flatpickers everywhere a little bit goofy when it comes to their spending habits. yes, I'm a hypocrite, I'm broke, and my Brazilian Rosewood Santa Cruz will never, ever be for sale.

I'm nearly the place where I find that word count is critical, and so I'll wind down by stating that should you have a solid spruce top, and either solid Rosewood, or Mahogany as the back and sides to your guitar, or one you're considering buying-then rest assured, all other aspects of this instrument will typically be "spot on," and great specs for playing. I should also mention that Mahogany too has "cousins" that make fine, less expensive tonewoods, My benchmark for the low end of this type of guitar is made by Taylor Guitars, and it's back and sides are of a Mahogany cousin.

In conclusion, never, ever forget guitars made of solid woods, not laminates are your fine, heirloom type instruments. I think I'll simply have to follow this thing up with more information, and specifics about some other significant brands and models. Thank you for reading, and should you have any questions, don't hesitate to contact me with them.