The top of the line dreadnought by Taylor guitars, the Taylor 910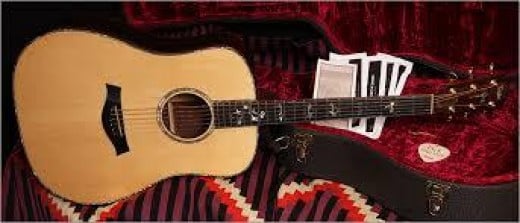 Beautifully ornate and designed to the highest standards of tonality and playability, the Taylor 910 is the flagship instrument of Taylor guitars. The combination of solid rosewood bodies with a solid spruce sound board in a dreadnought size has proved a very enduring configuration for six string and twelve string guitars all over the world. When you purchase your Taylor 910 you're not just getting the classic dreadnought design and much loved sold rosewood and spruce combination, you're getting a very elegant and ornate guitar with the best hardware and cuts of woods available to one of America's largest and most prestigious guitar manufacturers.
This Taylor 910 guitar isn't something one would purchase save their wanting and needing the very finest sort of acoustic steel string guitar available. The Taylor 910 is just that sort of instrument, and should it be cared for it will outlast a man or woman's life, and then become a cherished heirloom and amazing musical instrument for someone else, and then again many times over. It's impossible to get a "better" solid rosewood and spruce guitar than the 910, one could only have different tastes and preferences.
Dreadnought design with rosewood body and spruce top - the Taylor 910
The body of the 910 is of solid East Indian rosewood, and of course this has been the primary rosewood used for rosewood body guitars since the 1970's. The 910 is available with a Brazilian rosewood body, but of course you can expect to pay a lot more for that instrument, as Brazilian rosewood is now very rare and hard to come by. Rosewood body guitars always have darker tonal characteristics than do mahogany body guitars. Rosewood provides a lot of overtones when playing, and a guitar such as these 910's should only be purchased if one first knows for certain they prefer the sound of a rosewood instrument to that of a mahogany body instrument.
The top of these fine guitars are of sitka spruce, but only the very best cuts of sitka spruce are used on the flagship dreadnought by Taylor. So while one should always be aware of the tone wood used for the sound board of an instrument, they should also know that no two sound boards are equal for merely being from the same species of tree. These instruments can be purchased with Adirondack spruce tops as well, but the most of them will always come with sitka sound boards, and one should absolutely know that instruments featuring an Adirondack or red spruce top are going to cost more for having that tonewood.
These lovely Taylor 910 guitars all come with a solid tropical mahogany neck, and a gloss finish. Taylor engineered its own gloss finish. It's said the new Taylor gloss finish is more environmentally friendly than was the previous lacquer finishes used, and also provides superior protection to the instrument.
The Taylor 910 is, of course, available in a left handed model, but you're unlikely to find a left handed one on every showroom floor you go guitar shopping at. You can always contact Taylor directly in order to get a left handed model, or order one through a dealer of fine musical instruments. Most Taylor 910's I've personally seen were acoustic/electric models with the Taylor Expression System on the guitar. It is also very common to see Taylor brand instruments with a Venetian cutaway AND the fine electronics inherent to the Taylor Expression system.
Taylor 910 With Venetian Cutaway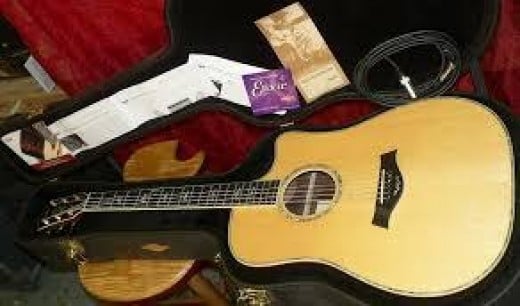 Specifications for the Taylor 910 guitar
Dreadnought body size and shape - the dreadnought is the world's most preferred shape and size for an acoustic steel string guitar, and this is one of the world's single best models of such an instrument
Solid East Indian rosewood back and sides, and in the 910 model, the superior cuts of the wood available to Taylor guitars. This guitar is available with Brazilian rosewood at a higher price
Solid Sitka spruce top, and the best cuts or AAA grade cuts are used as sound boards on the Taylor 910 guitar. For an additional cost these instruments can be purchased with Adirondack spruce sound boards. Sometimes Adirondack spruce is instead called "red spruce."
Solid tropical mahogany neck with black ebony fret board or finger board.
Taylor's CV bracing with relief route.
Rosewood binding with red purfling.
"Cindy" style fret board positioning markers done with abalone inlay
Ebony bridge pins with abalone inlay dots
Nut and saddle of bone for optimized clarity, sustain, and volume
Gotoh tuners or tuning machines
Gloss finish with satin finish on the neck