The new Black Ice mandolin from Weber is a terrific traditional F style mandolin with a new and beautiful color scheme. Once you see the beauty of the Black Ice Mandolin from Weber, you'll agree!



The Weber Black Ice F Style Mandolin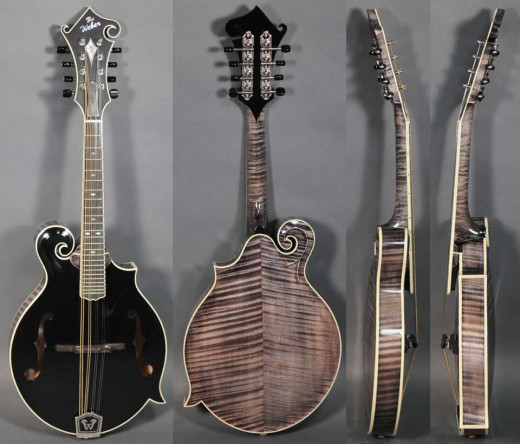 Weber Instruments
Weber musical instruments are well known both far and wide to be high quality musical instruments built by hand. Led by Bruce Weber, Weber instruments are all constructed by dedicated craftsmen who take huge amounts of pride in providing the world with terrific musical instruments built to last many lifetimes if cared for properly.
Formed in 1997, Weber brand instruments are very new, but quickly gaining ground in the minds of all musicians and music lovers. All one has to do is handle one, or hear one being played by any musician - and the respect and admiration comes automatically from there.
Here we are going to take a look at what is a very hot item, the Weber Black Ice Mandolin, and despite me only being able to locate these mandolins in the F style, it is rumoured that Weber also produces them in the A style of mandolin construction.
Mandolins, mandolas, mandocellos, Irish bouzouki - and guitars too, Weber makes them, and makes them very very well. But lets take a look at this F style Black Ice mandolin!
Weber Mandolins - The Weber Black Ice Mandolin
Brand new this year from one of the world's premier manufacturers of fine mandolins, Weber Mandolins has offered the world their absolutely beautiful
black Ice mandolin.
Without question, the black Ice mandolin is one of the most stunningly unique visual and musical entities in existence. The artistry of the builders and the tonality in the hands of the virtuoso surely will leave those with the gifts of enjoying both sights and sounds in awe time and time again.
So just what is the Weber Black Ice Mandolin?
Really, the Weber Black Ice Mandolin pictured directly below is a very traditional F style mandolin, and it is, of course, based upon the legendary
Gibson F5 mandolin
design. Weber Mandolins also offers the black Ice colour scheme and stylings in other styles.
The top wood used is hand graduated and tuned solid spruce. The traditional F hole sound holes are readily evident per visuals, and the stunningly gorgeous back and sides are AAA grade flamed maple, which means this is going to be a very loud and bright sounding mandolin.
Fingerboard and peghead are both of ivory bound ebony, and MOP diamonds serve proudly as the gorgeous fretboard markers. Let us be frank here, folks, the star of this mandolin show is the colour scheme of the instrument. The top is solid black while the sides, neck and back are translucent slate finish – one of the most memorable as has ever been seen, and the finish is glossy nitro-cellulose lacquer. Its hardware includes a black, cast "Weber" nickel-plated tailpiece and black plated Grover tuners; the bridge is traditional Brekke. It comes in a deluxe hard shell case and carries with it, to the first owner, a Limited Lifetime Warranty.
For about five thousand dollars, you can purchase a Weber Black Ice F Style Mandolin that has never been owned. They are lovely, and they are the talk of any mandolin town you visit just about right now.