Django Reinhardt is possibly the single most influential guitarist in the history of the instrument. Before Django it was VERY seldom that the guitar was every played as a lead instrument at all, and Django's style was technically astounding, even were he have had full use of his left hand, which he didn't.



Django Reinhardt
Long before people like Doc Watson and Clarence White brought the guitar to the fore as a lead instrument in the minds of American musicians , there was Django Reinhardt. Django Reinhardt many years before the folk revival had proven to the world what an incredible voice the six string acoustic box had, and he'd already revolutionized the guitar as a lead instrument in the world of jazz. Not only that, he created his own form of music, a sub genre of jazz known as Gypsy Jazz.

The year was 1934, and the French as a people weren't into jazz - they considered it a lower class music. A man named Pierre Nourry, however, was determined to make jazz something special in France. He headed something called the Hot Club, but the Hot Club was not a club at all - it was a floating party of jazz enthusiast that held jam sessions when possible. Pierre was in a state of distress, as the musical leader of the club, a pianist named Freddy Johnson, was moving back to the United States.

Nourry had already met Django, and even had some records produced of his music, but the tunes were poorly received by John Hammond, the influential US music critic who'd made such a difference for other artists that he did like. Pierre was still un daunted, and determined to let Django lead his Hot Club band. Later, after performing for the legendary Andres Segovia, a French music critic would exclaim,

"It can be said that he was the revelation of the concert. He is a curious musician, with a style like no one else's. We have a great improviser in Paris!"
Django Reinhardt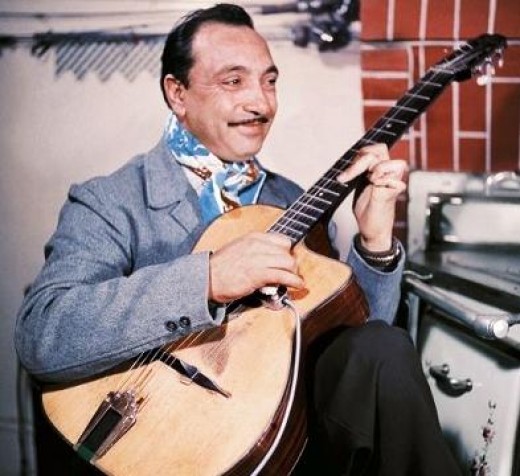 Django Reinhardt and Stephan Grappelli
Every great musician needs another musician to provide some back and forth with. Would we have ever come to know Paul Simon without him having Art Garfunkel? What about John Lennon? It's doubtful that without Paul McCartney, that we'd have ever heard much about either one of them.

Django Reinhardt might just be a little known footnote somewhere in the history of the guitar were it not for Stephan Grappelli. Oh certainly, Django had talent, prodigious talent - all on his own. But sometimes the whole is greater than the sum of it's parts, and when Grappelli and Reinhardt played together, it was as if worlds collided, musically. As for their first time to play together, Stephan had this to say,

"I still did not know Django very well, but sometimes I would sit backstage and listen to him play. One day to amuse myself, I started to play along with him. The effect pleased both of us, and we went on to play some more tunes. The next day we waited impatiently for the intermission so that we could go and play backstage again!"

Lots of folks who know music know a good thing when they hear it the first time, and Pierre Nourry knew he had a good thing going with the combination of Stephan's violin and Django's guitar. Pierre then hustled up another recording deal - this time featuring the beautiful improvised leads of both of them, and a back up band. In a time when a good jazz record would only sell a few hundred copies in all of Paris; the Hot Club's first recording with twin soloist, Grappelli and Reinhardt, captured the imagination and the favored pens of all Paris music critics.
Django Reinhardt and Stephan Grappelli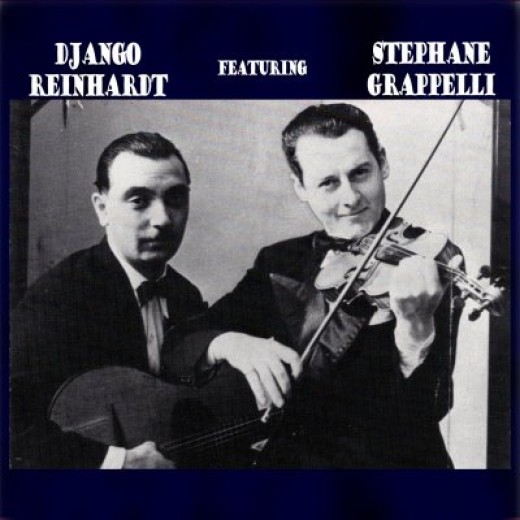 The Left Hand Of Django Reinhardt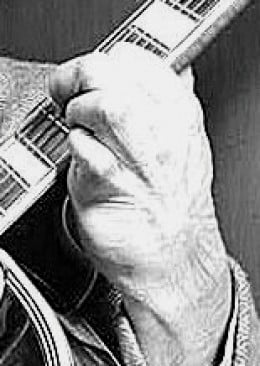 Django Reinhardt's Disfiguring Injury.
What is so hard to believe is that the music that Django Reinhardt played in his professional career - speedy, unique, intense, improvised, and altogether that of a genius - was all done with a severely disfigured fret board hand. The few people in the world who can play what Django played in his lifetime, are all doing that with four good fingers. Django Reinhart did it with only two with the exception that he could use his third and fourth fingers on the first two strings of the guitar.

What happened was that he had thought that he'd heard a mouse in his little caravan trailer that he and his new bride lived in. His wife had had the trailer full of celluloid flowers that she intended to sell the next day. On hearing some scurrying on the floor, Django took a candle and held it low to see, and he ignited the highly flammable cellulose, which started an instant bonfire inside his home. Django and his wife both escaped, but he was permanently disfigured. Doctors even wanted to amputate one of his legs, but he wouldn't have it, and left the hospital for a nursing home where he was given great care, and was able to keep his leg. He was only eighteen years old then, the year was 1928.
The Hot Club Of France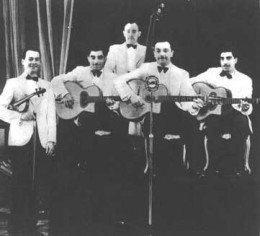 Quintette Du Hot Club De France.
The Hot Club of France had a few minor set backs at the start, but on February 23, 1935 - the five opened for jazz great Coleman Hopkins in Paris, and then began to attract ever larger crowds. Within a year they were touring all of Western Europe and with the biggest names in jazz music. By 1936 they were selling out all of their London concert dates faster than even Duke Ellington, and they did it all with a style of music that was totally unique. Django wrote most of the tunes, and there was no need for percussion because of the brash and abrupt three guitar rhythm section employing tremolo chords, syncopation, and tremendous energy.

The Hot club band, besides having Reinhardt and Grappelli, consisted of the rhythm guitarists Joseph Reinhardt (Django's brother) and Roger Chaput, and bassist Lois Vola. These, however, were only the primary and original members, and others came and went at whims or due to Stephan and Django's demands. I've got one album where Reinhardt is basically chastising his rhythm section during a tune - for sloppy play, and not keeping in time with him. He had absolute perfect pitch, and the slightest note out of key could infuriate such a man. Grappelli and Reinhardt would go on to record 339 tunes, in all, before World War Two.

What sets the Hot Club apart as a group is that they were the very first jazz musicians to gain acceptance as true masters of their art - that weren't Americans.
Selmer Maccaferri Guitar, and The Incomparable Django Reinhardt.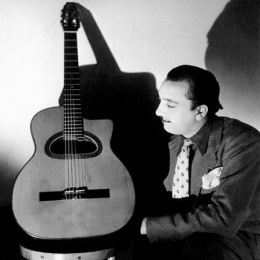 Django Reinhardt, Style and Legacy.
It's not much of an exaggeration to say that whether or not you care for the jazz of the Hot Club of France, that no guitarist has ever been as influential as has been the play and style of Django Reinhardt. The highly charged lyricism of his work is very conversational in sound. He sounds as if he's singing or even sometimes, screaming at you through his guitar solos. Characterized by intense energy, staccato notes, octave lines, and lyricism - Django's technique is astounding, it moves into the area of being almost unbelievable when one realizes that he only had two fully functional fingers to work with.
Django Reinhardt was a
Tzigane
, a Romanian Gypsy born in a Gypsy caravan near Charleroi Belgium in 1910. Gypsy men were often (and still are) more fond of living by their wits than by the conformity of steady employment, and that leaves lots of time for playing music. I suspect that they sometimes enjoy their lives, by and large, more than the common conformist does.
At twelve years of age Django got his first instrument, a banjo with a guitar neck on it; but thirteen he was accompanying his uncle and playing in clubs. At sixteen years of age Django made his first recording with an accordionist named Jean Vaissade - Django's name appeared on the record as
Jiango Renard
- Django Reinhardt had attended exactly one day of school in his entire life.
The fire that disfigured the man at a very young eighteen years of age had to have been exceedingly traumatic for him. He had to re learn the entire instrument while only using two fingers. Luckily for Django, and the rest of the world - his index and middle fingers on his left hand were both very long. It's been asserted with Django as proof - that musicianship is more a mental skill than a physical one.
It's has been said that Django could NOT play out of tune, out of key, or ever make a mistake even. He could play any tune in any key at any time he desired. While he didn't even know what the names of the chords of anything were - he was more acutely aware of them than perhaps anyone has ever been.
Gypsys during world war two were put into gas chambers as were any deemed retarded, mentally ill, homosexual, or Jewish. It's a sad thing of history that really only one of those groups seems to get remembered. It's lucky indeed for Django that he was a star to the Germans as he was to everyone else. During his lifetime he was truly a world wide celebrity. During his life, however, Django Reinhardt's music wasn't appreciated in America.
In his final years Django adopted with the changes in the seas of time, and incorporated bebop into his style, making it, of course, his own. He even started dabbling with the electric guitars which he'd previously been so suspicious of. After a night of playing in a Paris
nightclub
in 1951, he suffered a brain hemorrhage and fell dead on a rail station sidewalk. The impression he left, and the entire style of music that he'd created almost single handed, however, will live on so long as Humans do.