Besides making world class acoustic and electric guitars - Gibson also makes what is easily the world's most loved, desired, and most easily recognized mandolin, the Gibson F5.


I've been a huge acoustic and electric guitar music fan my entire life. Primarily I've always played acoustic guitars - but spent a lot of time listening to all kinds of guitar music. But the guitar is only one of the stringed instruments out there - and it's not always been the stringed instrument that has got or deserved the most attention. The violin, or fiddle is that instrument, but the guitar has a bit of a cousin, or maybe "step cousin," that is a closer relative to the violin than anything else, and that is the mandolin. I love hearing a mandolin being played, and especially should it be played well. No mandolin in this world is more famous or desired than is the Gibson F5 mandolin - a truly legendary instrument who's legend not only will not go away, but continues to grow.

The Beautiful Gibson F5 Mandolin Headstock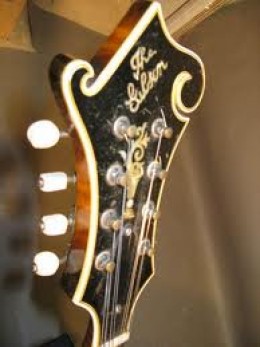 Lloyd Loar, and the Gibson F5 mandolin
During the early part of the 20th century many of the world's finest acoustic instruments were made. Primarily C.F. Martin & Co. and the Gibson corporation made these instruments, and perhaps the most famous American luthier then, and now was a man named Lloyd Loar, the designer of the Gibson F5 mandolin, and the Gibson L5 guitar. Of course Lloyd Loar designed other instruments as well - but none of them will ever have quite the same level of admiration among the masses as does the Gibson F5.

It's tough to compare anything to the legendary work of Stradivarius, but a Lloyd Loar Gibson F5 mandolin is an American instrument that in time will have that level of respect, awe, and admiration. Lloyd Loar has been out of mandolin making for a long time, and of course Gibson still makes the F5, and of course the F5 is still an amazing instrument, and the preeminent mandolin for folk, Celtic, and Bluegrass, and many another genre of mandolin to own.

Hey, perhaps you are an ambitious but very skilled woodworker, and want to build your own F5 mandolin - I've got just what you want and need right here, buy the amazon.com F5 mandolin template just to your right, and have at it. Please let me know personally if and when you do this, and build your mandolin. I want to know. I want to see it - heck, I want to play it!
The Beauty Of The Gibson F5 Mandolin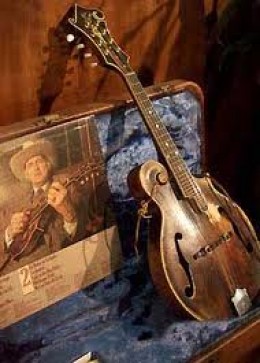 The Beauty of the Gibson F5 Mandolin.
The beauty of the Gibson F5 mandolin is obvious to the eyes. Just look at the thing. Clearly a master woodworker had to have created it. It's not going to be something just anyone could do, and before the Lloyd Loar F-5 mandolin was produced by Gibson - mandolin's typically had a rather plain, pear shape as a rule. Now, you don't have to have an F5 to have a beautiful mandolin, and for the most part - the beauty of a mandolin is in it's SOUND - so clearly
there are
many another great mandolin out there, and trust me on this one, just
because
Gibson makes the F5, that doesn't mean that the design of the Gibson F5 isn't copied by, literally, hundreds of other mandolin manufacturers.
Just as we see with the classic designs of Martin acoustic guitars - the F5 design is copied in cheaper instruments, and even higher end instruments than the original. If you buy a NON Gibson F5 copy - then be certain that you do your research to find out just what exactly the value for that specific mandolin is before you buy it. Looking like an F5 in no way means that a mandolin is anywhere near the value of an F5.
The Gibson F5 Mandolin Specifications.
With a solid spruce arched top and carved "F" sound holes and solid figured maple backs and sides - these fine mandolins are truly an investment, they aren't toys, and the price will definitely let you in on that fact. One needs to realize that the wood working involved in the creation of a masterwork such as the Gibson F5 is very, very taxing and precise. The people that own these mandolins make a living from playing them very often - and if not, they make side gigs for pay, or often give lessons for pay. Buckle yourself in, the Victorian Model F5 goes for around $15.999,00. Do you see what I mean? Now, just like a Martin D 28 or D 45 - there are less expensive versions of these - but they are going to start out new at about $7,000.00. These are definitely PROFESSIONAL grade instruments.

Hey, I've had my hands on one for a week at a time before - but someone went out of town, and thought it safer at my house with me than either left in his home alone, or on the road with him. Call me "Lucky."
The Gibson F5 Victorian Limited Edition Mandolin.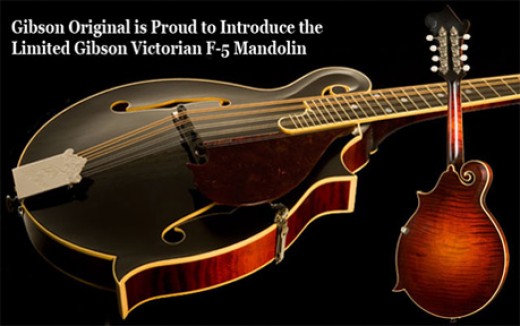 Conclusion.
One does not need to own a Gibson F5 mandolin to make beautiful mandolin music - and neither does one need to own a Gibson F5 to learn to play the mandolin. These mandolins, and especially the GOLDEN GOOSE models actually made by the designer, Lloyd Loar, are the premier mandolins in the entire world. It was my purpose here to merely introduce you to these instruments should you not know about them. A good beginner's level mandolin can be had for a bit over $500.00 new, and if you shop around in pawn shops while having researched mandolins on the internet, then you might come away with a real bargain in a used one for considerably less.
The facts are though, that if you come across a real Gibson F5 - you need to be serious when you talk to the owner about buying it. If it's stolen, then you are on your own, and should the wrath of the owner come upon you - that's your problem to deal with.