Martin D-18GL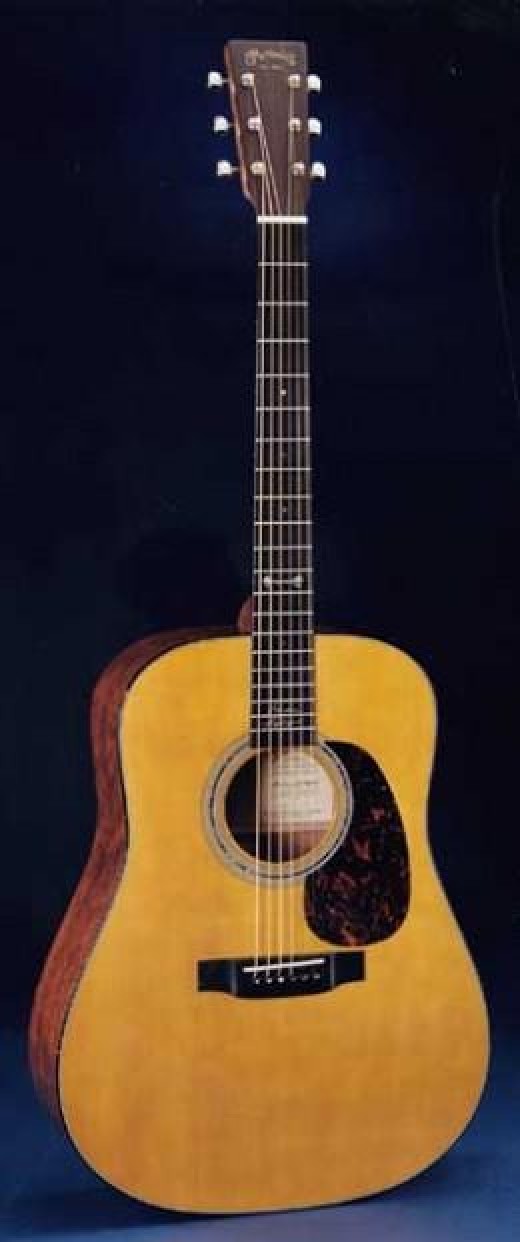 Martin and The Gordon Lightfoot D 18 The High Class Mahogany Dreadnought.
Through the years, and specifically concerning the making of acoustic steel string guitars, rosewood instruments have always been adorned with much greater levels of care, material, and detail than have mahogany instruments. Rosewood instruments take more time and effort to shape into guitars to begin with, while mahogany is much easier to work with. For these reasons people have always just sold mahogany guitars for less money than they have their rosewood body models.
Also, they surely figure that since they are already spending so much time to shape the wood into the shape of a dreadnought body guitar, why not just go all out and fit in, cut, design, and shape about a thousand little pieces of abalone inlay while we're at it? That is obviously the thought process, as when one sees the amazing and extraneous levels of abalone inlay featured in guitars such as the Martin D 100 - and realize that it's price is the same one hundred in the proverbial K denomination...You wonder, naturally, why instruments such as the Martin D 18GL havent taken over the entire market for the sheer beauty they have with so much less in the way of market price.
The Limited edition and hard to find Martin D 18GL is one of the most beautiful mahogany body dreadnought guitars that you'll ever encounter, presuming that you are, in fact, lucky enough to encounter one. The Gibson Hummingbird guitar would be comparable so far as having a mahogany body and a lot of abalone inlay is concerned. The thing about the Gibson, however, is that it's just NOT a Martin, and doesn't have the legendary Martin sound. If the Gibson sound is preferable to your style of music, and to lots of persons it is, then please go for the amazing Gibson Hummingbird. Lots of folks, however, have always dreamed of a dressed up Martin D 18, and this is it.
The Martin D 18GL is certainly dressed up, and the biggest visual attraction of this instrument isn't even the additional abalone inlay work, it's the quilted mahogany body of the instrument. Of course all solid wood construction was used, and besides the quilting of the mahogany, an Englemann Spruce soundboard was used rather than Sitka. The guitar could be compared to the Martin D18 GE, but it's really a different instrument due to the quilting, the Englemann spruce instead of red Adirondack spruce, and also, the size of the neck at the nut is different. The Golden Era Martin is 1 3/4" at the bone nut, while this guitar is 1 11/16" at the nut.
Gordon Lightfoot's signature is inlaid in pearl at the 19th fret, and quite a lot of abalone inlay work around the rosette make this instrument a super collectors item and a player's dream come true.
This is not a production instrument, and so the list price is irrelevant, these guitars in excellent to mint condition are going for around $5,000.00
Quilt mahogany back side and Gordon Lightfoot signature inlay