Ricky Skaggs has been performing complex music on stage since he was a mere six years of age. He's only become better and better at composing and playing as he's gotten older, and when he plays traditional music, it's always top notch. Ricky Skaggs' very name draws a crowd, and his band "Kentucky Thunder" is the best bluegrass music group in the entire world. Ricky Skaggs plays the fiddle, the mandolin, the banjo, and the guitar - he does all of those very well, but mostly plays mandolin.



Ricky Skaggs
I'd always been aware of music growing up, and in my family there was no wonder about that - we all listened to music all of the time. Long before I ever was interested at all in the playing of music we listened to music. I was aware of Ricky Skaggs then as a country singer. I might not have known the person's name who sang Highway 40 Blues, or Honey Won't You Open That Door, but these types of things floated around my consciousness. Later on, when I definitely was cognizant of the name Ricky Skaggs, and knew that he was a country singer, I must have surely thought that it ended there. I wasn't aware then of his history, and that he'd been a performing musician as early as at six years of age.

I'd heard of Kieth Whitley too, of course, and all I'd thought of Ricky or Kieth was that they were popular country music stars. When I became interested in playing music, I realized that most of the things that passed as country music were valueless things that were really just pop music, and I hadn't much respect for those kinds of things - I liked music, which is performed by musicians. Most pop music, whether it's incorrectly labeled as country, or rock, or whatever - was merely some cheap catchy bit of nothing performed by a model pretending to be a musician.

Ricky Skaggs had made a compromise, he'd decided to become a country music star, but yet try as hard as possible to maintain his musical integrity. That this all bothered him is something he's basically stated, but I'm still glad of it, as it made him wealthy and famous, and allowed for him to bring the music that he truly loved back into the fore of people's minds with, shall we say, Kentucky THUNDER.
Ricky Skaggs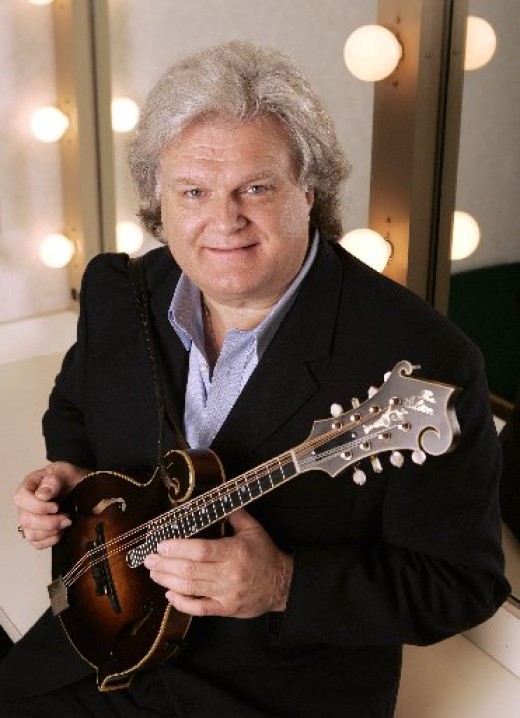 Ricky Skaggs, Multi Instrument Stringed Instrument Whiz.
Though in this article we'll discuss an extremely fine acoustic guitar designed and named after Ricky Skaggs, Mr. Skaggs has always been primarily a mandolin player. He stops far from just there, however, and plays a very mean guitar. He's won several accolades over the years as a guitarist, and he also plays the fiddle, and the banjo very well too. Ricky Skaggs doesn't do much of anything
halfway
, but rather, has the type of talent that would have allowed him to choose virtually any musical course of action that he'd wanted to choose. Talent isn't enough, of course, and Ricky must have known that. Seeing his skilled playing leads one who's tried to play some of that music to realize the immense amounts of time that he's surely put into it. Luckily for me and the rest of his fans, he chose bluegrass and folk music, despite being best known as a country music star.
I almost sort of cringe at the comparison I'm about to make, but if you read it, I think you'll understand. Ricky Skaggs is like the Ozzy Osborne of Bluegrass - he's always had his pick of the guitarist in the world, as his name carries the band, so Ricky like Ozzy - never fails to pick the hottest of the hotshot young guitarist out there. In the next clip you will see traditional and very up tempo bluegrass music featuring some very skilled high energy and high speed playing. Bryan Sutton is the guitarist in the video, but the entire band is full of some of the best talent anywhere.
The Gibson Ricky Skaggs F5 "Distressed" Mandolin.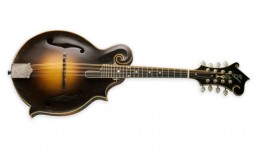 The Gibson F5 Mandolin.
The Gibson F5 Mandolin
Besides making world class acoustic and electric guitars - Gibson also makes what is easily the world's most loved, desired, and most easily recognized mandolin, the Gibson F5.
The Gibson Ricky Skaggs F5 Mandolin
"The Ricky Skaggs Distressed Master Model features a beautiful Cremona Sunburst finish which gracefully accents the premium, red spruce top and maple back and sides. With a tap-tuned top for crisp chops and articulate lines, exquisite binding and headstock inlay, and a comfortable profile, it is an exact replica of Ricky's F-5. The Ricky Skaggs mandolin is another example of the exquisite work and painstaking attention to detail that Gibson Original puts into every instrument."

The above is Gibson's own description of the vintage and limited edition production of Ricky Skaggs' own Gibson F5 mandolin, an instrument built in 1923 by the legendary Lloyd Loar, the designer of the F5. When Gibson calls something a master model, as they do the Skaggs model F5 - there's no reason to ever doubt the quality of such a thing, and buckle up - it's priced at over twenty five thousand dollars. Serious musicians only need consider this instrument.


Ricky Skaggs and His Bourgeois Signature Model Acoustic Guitar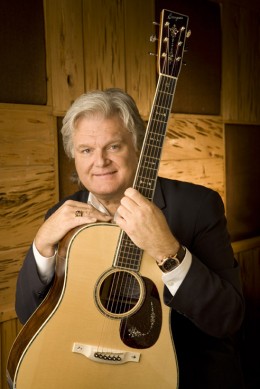 Ricky Skaggs and Guitars
As mentioned before, Ricky Skaggs is an outstanding guitarist that happens to be primarily a mandolin player. Ricky can certainly do it all, but he can't do it all at the same time - and so he's always got great banjo, fiddle, bass, and guitarist in his groups and on his albums - because simply put, the name Ricky Skaggs implies virtuoso musicianship. I'm a huge fan of acoustic guitars and acoustic guitarist, and when Ricky Skaggs released Bluegrass Rules, and then Ancient Tones - I, like everyone else, was left in awe of Bryan Sutton's guitar playing.

Well, Bryan Sutton moved on into a solo career, and was replaced in Kentucky Thunder by Cody Kilby. I'm not going to stretch the truth any here and tell you that I personally know Cody Kilby, I don't. I have, however, stood shoulder to shoulder with Cody in the past watching great guitarist play at the Walnut Valley Festival. You could say that I feel like I know the guy, and I assure you that nothing was lost when Cody replaced Bryan in Kentucky Thunder.

Ricky Skaggs endorsed Bourgeois guitars, and boy, from my experience I can't blame him for that either. I've played guitars by the Santa Cruz Guitar Company, Collings Guitars, and Martin, of course - and when you get to the level of Bourgeois guitars, there's none higher or better, and deciding which one you like best might be more of a challenge than anything else. As Skaggs said in the video - people pay forty grand for a guitar like this when it's an old Martin.

The Ricky Skaggs model Bourgeois guitar is very like a Golden Era Martin D 28 - it's Adirondack red spruce for the sound board, and Brazilian rosewood for the back and sides. The fossilized Ivory bridge on this instrument is highly unique, and so far as I'm aware, not found anywhere else. This guitar sells for a cool $15,000.00 - and should only be considered for a prime investment, a professional musician, or a family heirloom.
Ricky Skaggs - Conclusion.
I hope that I've been able to leave an impression on you here about what a talent Ricky Skaggs is, his musical virtuosity, and his musical integrity. Merely associating with his name brings a country, folk, bluegrass, or gospel musician integrity that nothing much else played on top 40 radio could or will ever be able to give. I could go on and on for days here, but in the end, it's the music that speaks the loudest and most effectively. While someone like Kenny Chesney will be soon forgotten, the musicianship of someone like Ricky Skaggs and those he deems worthy to play with him will live forever.