Son House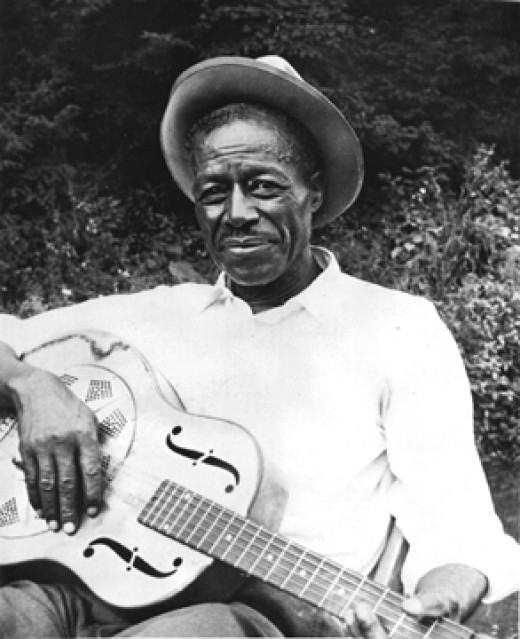 Son House
Eddie James "Son" House lived from 1902 to 1988, and left a legacy that spans the globe, and is felt every single time that someone hears any sort of blues, or rock and roll music. If you think that rock and roll music was not founded on the blues - you're on the wrong article, hit the back button at the top right of your browser.

Without the teaching of Son House, there would be no Robert Johnson or Muddy Waters - and without either of those there would have never been an Eric Clapton, Jimmy Page, Jimi Hendrix, or a Jeff Beck even - yes, I can say such bold things. Son House was never a very flashy guitarist, but he'd gave blues guitar lessons to both Robert Johnson and Muddy Waters - the rest is history.

Though the music of Son House isn't complex, it is both powerful and dignified - reflective of the man himself. The Lyrics of Son House are gritty, and reflective of his life - there is no blues without the lyrical integrity reflective of a hard life. Son House played a National brand resonator guitar, and most often in the open G tuning while using a piece of copper tubing as a slide. Probably his best known songs are pieces such as Death Letter Blues and Grinnin' In Your Face

Despite the fact that the beautiful and uplifting nature of the totally A Capella Grinnin' In Your Face - it's still The Blues! Now lets have a listen to some Son House!
Bukka White!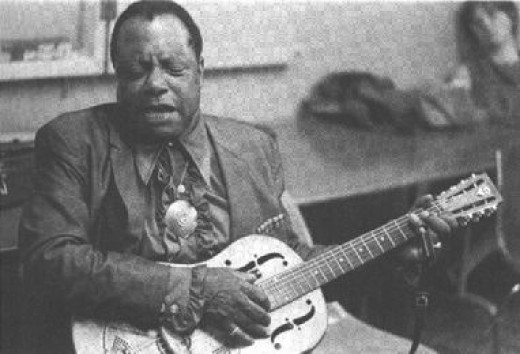 Booker T. White "Bukka White"
Bukka White
was born Booker T. White in November of 1909. He became "Bukka White" when a record company misspelled his name! It's not a nickname, really - but it stuck. He lived as a Delta Blues guitarist and singer until February 1977. Bukka White is the cousin of the world's most famous living blues legend, B.B. King, and he'd gave young B.B. King his first guitar, a
Stella
brand instrument. Booker T. or "Bukka" White, however was like Son House in that he played a
National
brand
Resonator Guitar
.
Bukka White started playing professionally as a fiddle player, but he'll forever be remembered as a player of slide guitar, and for having done so using some unique cross note E Minor tuning, though he first recorded in the
1930s
he became well known after recording with John Lomax, the folklorist, while serving time. .In 1990 Bukka White was posthumously honored by induction into the Blues Hall Of Fame.
Blind Boy Fuller
Fulton Allen, aka,
Blind Boy Fuller
- lived from Summer 1907 to Winter 1941, and was the most recorded of the Piedmont Blues Artist. Now, just exactly what that means is a totally different subject altogether - but maybe you can catch the difference from hearing it when compared to Delta Blues guitar playing - but it's basically or more simply put as being the East Coast Blues style from the early twentieth century.
How exactly Fulton Allen became blind is rather debatable - snow blindness and a woman throwing chemicals in his face have both been claimed or reported as the reason, but suffice it to say he became blind in his late teens or early twenties - it wasn't an immediate thing, but happened over time due to some damage to his eyes.
Blind Boy Fuller made a name for himself by playing on street corners in Winston Salem, North Carolina - and then went on to record around one hundred and twenty tunes. His lyrics are best described as rough and direct - he wasn't bashful about singing songs about his
underprivileged
life, and for that I salute him. Fuller was far from sainthood, however, and his fiery temper caused him to shoot his wife, and she sustained a leg injury. Perhaps his blindness was truly earned, and even a blessing for some.
Blind Boy Fuller's music fused elements from many other styles, and that led to some criticism from some who simply described it as "derivative." He's best remembered for his up tempo rag time blues style. Blind Boy Fuller died due to complications from excessive drinking. Truly, this was a Blues man.
Blind Boy Fuller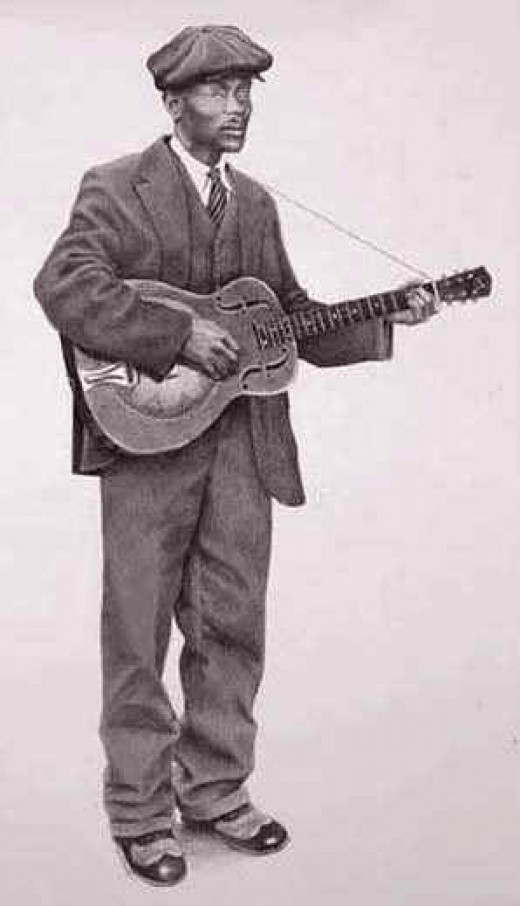 The National Steel Guitar
Besides the three blues men here - there is a fourth star to this show, the National Steel Guitar. The Dopyera Brothers "invented" these style instruments in the
1920s
, and the blues men made them famous - most often playing with fingers and slides, these guitars are very loud compared to wooden acoustic guitars, and they've got a very bright, brash, and immediate tone to them.
I hope you enjoyed the music, and were possibly made aware of something new - despite it all being sort of old.
Regards,
Wesman Todd Shaw.
The National Steel Guitar.