A Beautiful Sunburst Gibson J-45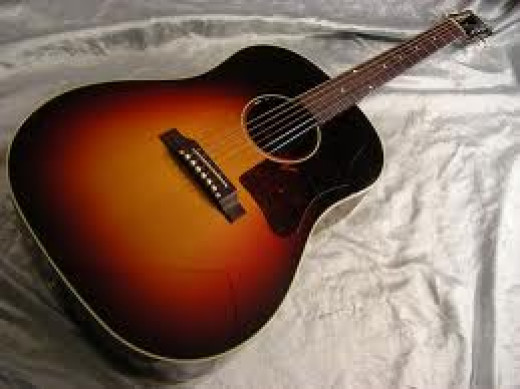 Gibson's J-45 is a historic guitar
Since the
1930s
the United States of America has been THE nation where the finest guitars were created on the planet Earth. The USA exports a lot of musical instruments, it's probably a hard fact most of them are guitars. Gibson guitars are equally famous and renowned across the world as are C.F. Martin & Company guitars, but Gibson also is famous for making electric guitars, and not just acoustic ones. Despite the political machinations of rogue tyrants who hate the populace and the economy of a nation, Obama is no match for Gibson guitars. Mr. Obama has nothing to offer us, Gibson guitars does.
Gibson makes wonderful guitars, and I've owned one in the past, and should I become a more fortunate man, I'll own one again. One of the very most famous guitars in the entire world is the Gibson J-45. Gibson claims it's
J-200
is THE most famous guitar in the world, and it's surely recognizable and supremely desirable, but in my mind, the J-45 is its equal. Wikipedia has a nice page about the Gibson J-45, and on the page the claim is made that "generally," this is Gibson's most famous guitar.
A 1958 Gibson J-45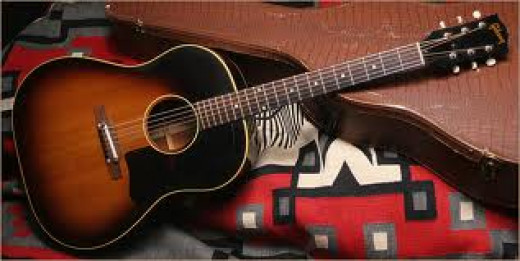 The J-45 is one of the most well known and desired dreadnought guitars in the world
The J-45 is a round shouldered dreadnought. Gibson chose to call these instruments "J" for jumbo, instead of "D" for dreadnought, they're designed specifically to compete with C.F. Martin & Company's D line of instruments. The J-45 was created to replace the J-35. I've no idea why the people at Gibson would think the wonderful J-35 needed replacing, and in recent years Gibson has also re-introduced the J-35 guitar.
The J-45 was given the title by the manufacturer, "the workhorse guitar." That's what it is, it is a no frills guitar, it's not fancy, but it's an all solid wood dreadnought; built of mahogany back and sides, and spruce top. For that reason, and it's general size, the guitar is the Gibson version of the Martin D-18,but there's more to it than that, isn't there?

The J-45 is legendary for nearly always being a sunburst guitar, having a sunburst finish on the top. Now there have been persons who will say the sunburst finish serves to hide the less than wonderful spruce soundboard's flaws, and sure, a sunburst finish could do just that. We are talking Gibson guitars though, they're world renowned, and the J-45 is possibly their most purchased acoustic guitar. I assure you Gibson wants you to love your J-45, they're pretty unlikely to be putting a bad top on a J-45. It simply wouldn't make sense for them to do that, they've got a reputation to maintain. In any event, shoppers should always play a bit on several instruments before deciding upon one. You also definitely CAN find J-45's with natural finished tops, those are just one letter different on the model number, as they are called "J-45N's."
A J-45 Custom with natural finish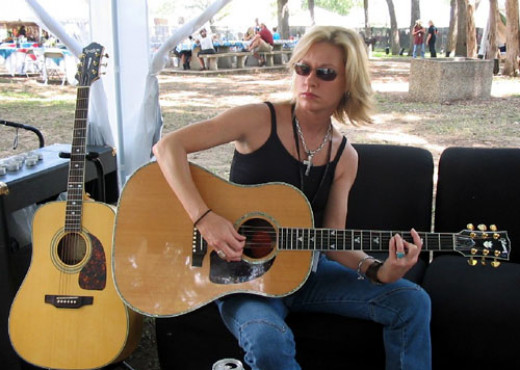 Gibson J-35, J-45N, and J-50 Guitars
The interested buyer can always have his J-45 customized, custom built. The natural finish J-45 above is just such an instrument. In fact, the J-45 above has rosewood back and sides rather than mahogany, and it's got a few more custom details too. In the case of one with a natural finish and a rosewood body, one wonders should it not be called something else entirely; but it does fit the J-45 body build, scale and other specifications, bracing and such is the same. That one is priced at $2,775 and is also acoustic electric. You can most certainly have a J-45 with L.R. Baggs Element Active Acoustic Pickup System included.

Regarding the Gibson J-50, well, it's just a J-45 with a natural finish and a few differences in the binding used, which are very minor cosmetic details. So the facts of the matter are, the J-35, J-45, and J-50 are all nearly the exact same instrument. First came the J-35, which was then replaced and discontinued by the J-45 which had a sunburst top. The J-50 came later, but is not currently in production, and like the J-45N of old, is a very rare sort of instrument to find for sale or to own. The J-35 has been reintroduced. I hope that makes sense to everyone.
A 1970 Gibson J-50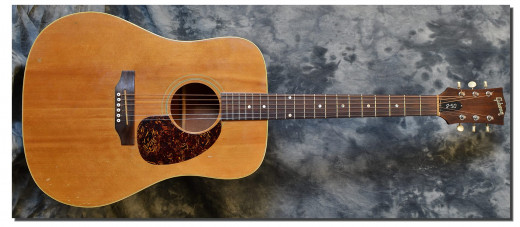 J-45 guitars and various species of spruce as the guitar's soundboard
Now in this day and age of lots of choices in guitars, there's literally the perfect guitar out
therefore
everyone. It's a matter of experimentation to know what specific guitar fits your hands the best, your ears the best, and your budget. Great guitars generally cost some real dollars, but the reason for that is they're truly fine works of art in and of themselves, and they're built to allow the owner or player to create works of art, and then to be passed down to the next generation.
There are all sorts of things that go into guitar building which affect the play-ability and tonality of a guitar. Some of the most respected builders in the industry will tell you the type of wood used as the top or soundboard of the guitar is the single biggest factor in how the guitar sounds. Now, there is no "this wood is best," and the reason there can't be a "best" is because no two guitarist play the same way. If you are a heavy handed picker then you could probably say red spruce is the best; but if you are a fingerstyle player or a soft handed picker, then you may very much prefer cedar tops to spruce tops, or Engelmann spruce to either sitka or Adirondack
So there is the J-45 True Vintage model, and what is that? Well, it's made to exact specifications as were the very first J-45 guitars. Modern J-45's will generally have a sitka spruce top, there's nothing at all wrong with sitka, but a very good board of red spruce, which is otherwise known as Adirondack spruce, is likely to be a better soundboard for some very specific reasons having to do with the species of trees and their properties. The True Vintage J-45 has the red spruce top, and so it cost a bit more. They sell those at about three thousand dollars.
A Gibson J-45 True Vintage (Red spruce top)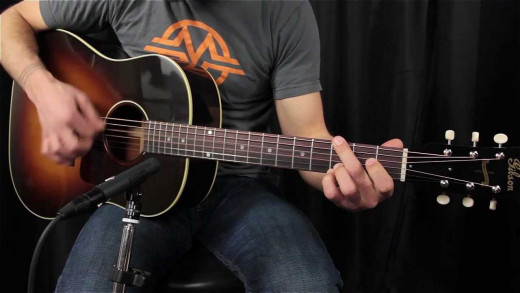 Again, Gibson guitars are a time tested legend in guitar making. It's absolutely embarrassing as a nation we have at present a president who would literally have Gibson raided for Gibson donating to the Romney campaign, but that's what happened. Gibson guitars absolutely exists for their having made such fine guitars that they're literally always in demand, another thing is, they aim to please by always having so many options there will literally be a Gibson guitar which suits your very specific needs and desires.

Tonewoods are a huge deal in the guitar world, and exciting new tonewoods and combinations of woods are becoming increasingly common. There's just a lot of choices out there, and among the choices now available are the Gibson J-45 with Hawaiian Koa wood for it's solid back and sides. I've even seen natural top J-45's with Koa back and sides.
Gibson J-45 Custom with Koa body and herringbone trim!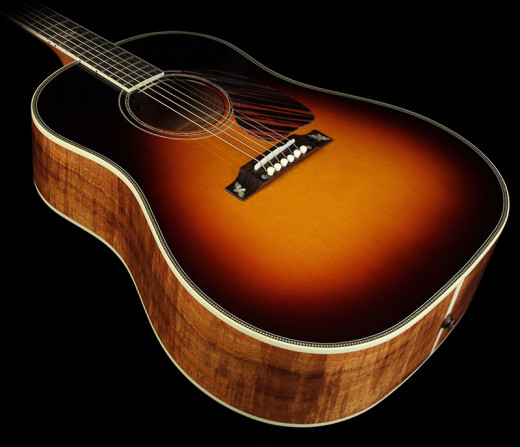 Like mahogany, Koa is a wood which also can be used for not just bodies, but also tops or soundboards. Among the least traditional Gibson J-45 guitars you'll likely not see but are out there to be seen, is the J-45 with not just a Koa body, but also a Koa top. I've never seen such a guitar, but they are there to be seen and for sale online. I've personally never got to play a guitar with a Koa top, but I have got to pick and strum a bit on some Koa bodied instruments. It's a fine and beautiful wood, and is becoming more common, especially when used as back and sides of fine acoustic guitars.
A Gibson J-45 Custom with Koa body and top.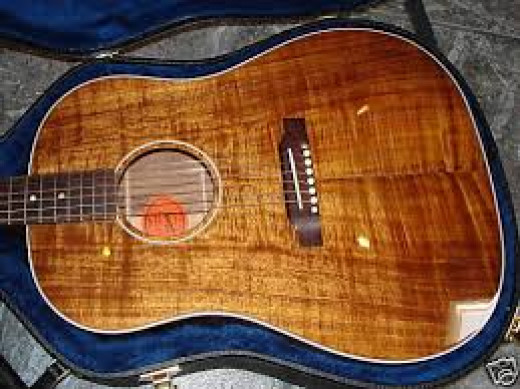 John Hiatt and His Gibson J-45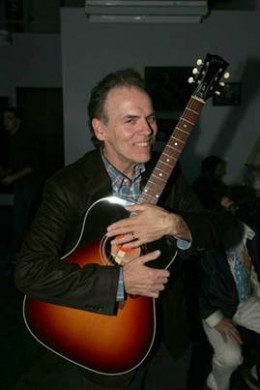 John Hiatt and the Gibson J-45
Over the many years of the Gibson J-45, many a well known and loved artist has used the Gibson workhorse guitar as their instrument during recordings and live performances. Bob Dylan as played the J-45, Buddy Holly played a J-45, and nowadays John Hiatt has his own model of J-45, and the J-45 John Hiatt is available right now. John Hiatt prefers a sitka spruce top, and so the J-45 John Hiatt has that soundboard, a solid "modified V" mahogany neck (one piece), Madagascar rosewood fingerboard, advanced X scalloped bracing, Fishman Ellipse matrix blend and preamp system, a bone nut and Tusq saddle.

The John Hiatt J-45 also has a triple-burst finish, a fancier double ring rosette, and a John Hiatt signature engraved on the truss rod cover. Gibson is only making 100 of these John Hiatt J-45's, so if you want one of those, you are really going to need to plan for it. I'm pricing the John Hiatt J-45 at $4,515 on the web.
Bob Dylan playing a Gibson J-45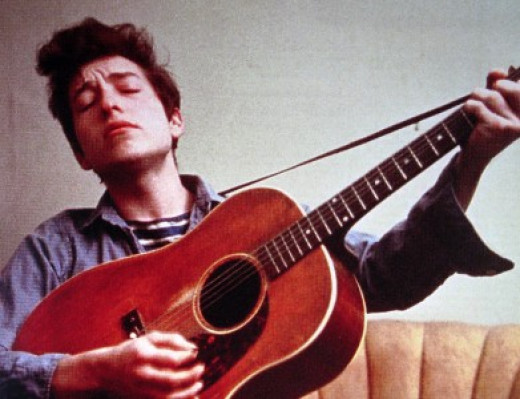 J-45 standard specifications
The Gibson J-45 standard is the modern J-45 which is the real workhorse guitar for every day players and/or performers. it's a solid mahogany body, classic specs, but with a sitka spruce top. You can purchase a J-45 with or without electronics, and rather obviously the electronics change the price tag a little bit. Other specifications are as follows:
Binding is 4-ply top, single-ply back
The neck is mahogany
Scale length is 24-3/4"
Round neck profile
Rosewood fingerboard or fretboard
MOP dots as fretboard positioning markers
Neck width at the nut is 1.725"
Traditional Gibson Rosewood Bridge
MOP dot bridge inlay
White bridge pins
Nickel Grovers tuning machines
Tortoise

teardrop

pick guard
Of course this fine guitar also comes with a wonderful hard shell case, and a limited lifetime warranty from Gibson to the original owner. Thanks for reading.