The Gibson Hummingbird Guitar.
The Gibson Guitar Company has always best competed with it's only real competitor, C.F. Martin & Company, by not competing directly. Martin might seem to set the rules so far as acoustic steel string guitars are concerned, but the people at Gibson Guitars never recognized those rules as the least bit valid, and they've done things exactly their own way. One of the prime examples of how Gibson had always done things it's own way has been with their
Hummingbird Guitar
.
Now C.F. Martin & Co. had been producing dreadnought guitars since the
1930s
, but during that time Gibson was focusing on other things such as mandolins and arch top guitars. In 1960 Gibson introduced it's "slope shoulder" dreadnought known as the
Hummingbird
; and this dreadnought was very different from what Martin was offering in a large number of ways.
The Gibson Hummingbird Acoustic Guitar - Honey Finish.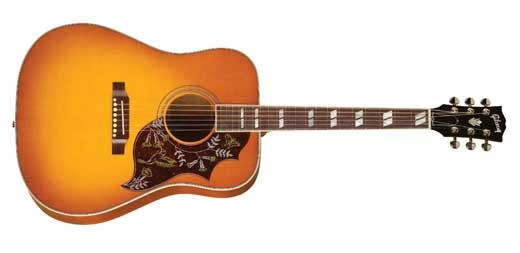 The Gibson Hummingbird Guitar - Cherry Finish.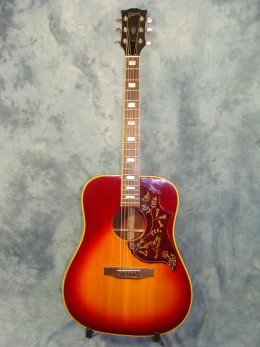 The Gibson Hummingbird - Mahogany Dreadnought.
While C.F. Martin had been selling tons of dreadnought guitars that were universally loved by players, the Gibson Guitar Company jumped into the dreadnought market with it's beautiful Hummingbird guitar, and totally ignored the way Martin had been doing things. While Martin's beautiful D 45, and more widespread D 28 guitars were rosewood bodied instruments, Gibson's Hummingbird, which had the kind of appointments that Martin reserved for rosewood guitars, was instead a mahogany body instrument.

Instead of competing directly with Martin with a dressed up rosewood body instrument, Gibson competed, if you will, with a completely different guitar, a mahogany body instrument with the beauty that Martin had reserved for rosewood guitars. It could be thought that this was brilliant, as any guitar builder would tell you that Brazilian rosewood is a very time consuming wood to mold into the body of a dreadnought guitar. Mahogany is much easier to work with than rosewood. Creating a mahogany body instrument with lots of inlay and upscale design, Gibson saved themselves some time and cost in the production of guitars that would compete with Martin's rosewood dreadnoughts in the upscale acoustic guitar market.

Of course Martin had been making the dressed down and basic in appearance D 18 for thirty years - but the coup goes to Gibson for filling a niche for fancy mahogany instruments.
Gibson Hummingbird - 2008 Vintage Sunburst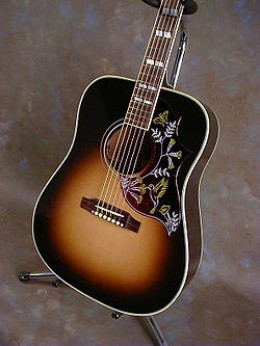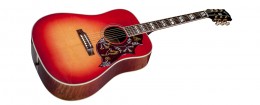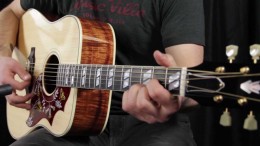 The Gibson Hummingbird Vs. Martin Instruments.
There are two things to consider if you are in the market for a Gibson Hummingbird and wish to compare that instrument to those offered by the closest competitor, C.F. Martin & Co. The first thing that you need to decide is exactly what it is that you like about the Gibson Hummingbird!
Let's put it like this - the Hummingbird competes with the Martin D 18's in that both Hummingbirds and D 18 guitars are mahogany dreadnoughts. if you are shopping for a guitar based upon it's sound, then that is the thing to consider - do you like the sound of the D 18 best, or do you like the sound of the Gibson Hummingbird best? After deciding upon that you should then be thinking about which one of those instruments feels best in your hands.
If PRICE is the main consideration - then hands down - I'm recommending the Martin D 18 VR to you over the Hummingbird, as I think the D 18 sound is preferable to that of the Hummingbird, and the Martin D 18 V is considerably less expensive. But if price isn't the factor most dominant in your decision making process, then the Martin guitar that you need to compare to the Gibson Hummingbird would be the more expensive Martin D 18 GE.
If the LOOKS of the Gibson Hummingbird is what you are after - then mahogany and sound are not your priority, and the Martin guitars that compete most closely to the Gibson Hummingbird would be the LESS expensive Martin D 28 VR or even the Martin D 42.
Please always keep in mind, and I can never stress any of this enough - no two guitars are ever the exact same - even if they are the same model made from the same trees and by the same person. That's just the way things are. Whether or not YOU can tell the differences yourself, or not, is not the issue - the facts are that differences exist, and someone else might have better hearing than you do.
Advice: Always have SOMEONE ELSE - possibly a salesman or a friend that you brought guitar shopping with you play the instruments you are considering purchasing so that you can then hear those guitars with someone other than you playing them. THEN also play them yourself, and consider the differences in sound between what you hear when playing the guitar, and how it sounds when someone else plays the guitar.
There is one other thing to consider - the Gibson Hummingbird comes as an acoustic/electric guitar with a pickup included.
The only complaint I've read about this is that it's probably overly responsive on the bass end with it's L.R. Baggs pickup. If you are in the market for an acoustic electric - then this guitar features that and the Martin models that I mentioned do not come that way from the factory. You CAN get Martin acoustic electrics in those models, but it's not a standard feature as it is with the Gibson Hummingbird.
If you are mostly an acoustic player - then the electric features will just be in your way, and you are paying for something that you do not need - keep that in mind.
In any case, the Gibson Hummingbird Acoustic-Electric Guitar, Heritage Cherry is available on amazon.com for a price of $2,949.00
The Martin D 18 V sells for around $ 2,300.00
The Martin D 18 GE goes for around $ 3, 300.00 and features a solid Adirondack Red Spruce Top.
The Martin D 42 is considerably more expensive at around five thousand dollars.
Please keep in mind that these are definitely professional level instruments that come with a hard shell case, and a lifetime warranty to the original owner - they will last several lifetimes and all or any prove to b