The Martin D 50 Koa Deluxe! - Tree Of Life Abalone Inlay!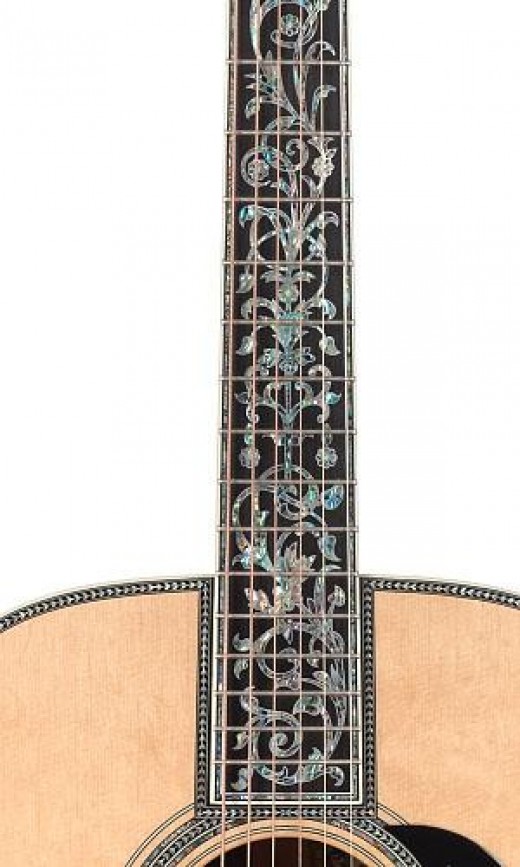 The Martin D 50 Koa Deluxe Tree Of Life Guitar
I literally couldn't believe it when I saw the thing. I was perusing the booths at the Walnut Valley Festival, and the year was either 2000 or 2001, heck, maybe it was 1999 - I don't recall, and it's not important. The guitar was well protected from the crowds, and kept at the center of the booth. There were ten thousand dollar guitars that anyone could touch, pick up, and strum or otherwise play - but not this guitar.

Yes, in case you were wondering - I DID get to play it, but I've no idea what I said, or if someone recognized me, or what. All I remember is that under close supervision and wary eyes I not only looked at the thing, I picked out some simple melody on one of these - probably something quick and easy like Soldier's Joy, or Big Mon.

One thing important to realize here is that most any new Martin dreadnought is going to play the same, or have the same ease of play-ability. Paying fifty thousand dollars for a Martin D 50 Koa Deluxe doesn't get you a better performing guitar. What it gets you is the single most beautiful instrument in production, and a lifetime warranty to the original owner.
A D 50 Koa Deluxe, By C.F. Martin & Co.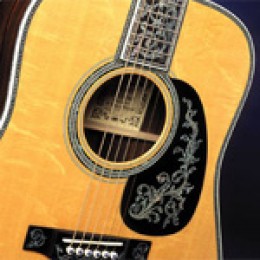 The Martin D 50 Acoustic Guitar - Behold the Abalone Tree Of Life Inlay!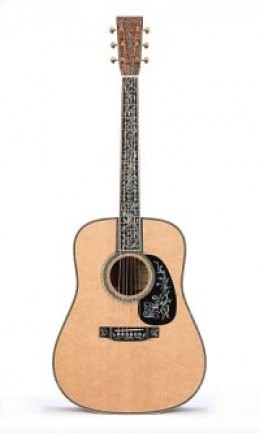 This D 50 is

an ULTRA

Deluxe Featuring Brazilian Rosewood - The Deluxe, however, are Koa.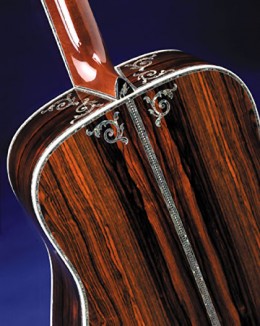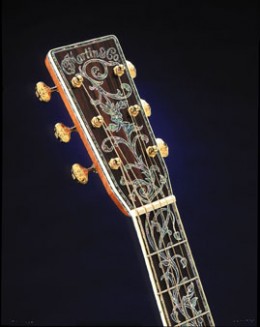 The Martin D 50 Koa Deluxe - A Fifty Thousand Dollar Guitar.
In case you missed what I'd stated above, the D 50 Koa Deluxe, by the legendary American guitar manufacturer, C.F. Martin & Co., out of Nazareth, Pennsylvania; is a guitar that costs fifty thousand dollars new. I don't know of a more expensive guitar in production anywhere. I also don't know of a more beautiful guitar. The pictures that I can provide here won't do the instrument justice. This is not just a guitar - this is a very fine work of art made by the finest craftsmen in the entire world.
Yes, there does happen to be a Martin D 100 - but I've never seen one, or played one. I really do think that at some point so much abalone inlay has to cause sacrifices in the structural integrity, and the sound of an instrument. I'm just not sure - I'll just state here and now that the D 50 Ultra Deluxe would be the finest possible instrument that I could conceivably ever desire - despite knowing that even if I had that kind of money, I'd not buy one.
Now I can practically hear some folks saying out loud,
Ain't no guitar worth fifty thousand dollars!
There are many reasons why you are wrong. The guitar is priced rather well. In my hometown there are red neck bumpkins driving fifty thousand dollar pickups around for no reason whatsoever. They don't need that gigantic diesel truck, they only have it as a sort of ornament - and ornament that trashes the environment, and by degrees, leads to murders
overseas
by fascist corporations like Halliburton - so forth and so on. Those trucks are nothing but ornaments designed to give the appearance of worldly wisdom and success.
But that fifty thousand dollar guitar can't take you anywhere!
You couldn't be more wrong. Play a five hundred dollar guitar well enough, and it can indeed take you places. Some people actually do need their fifty thousand dollar diesel pick up - they haul around tractors and large trailers for their work - you could think of this guitar in that manner as well, an instrument of revenue generation. If you do not like to think of it like that, then you only need to look at this thing to realize that it's not just a fine musical instrument, but a work of beautiful high art.
"This guitar leaves me breathless. It is so beautiful it shimmer on the wall like a string of diamonds. The painstaking inlay which features thin bands of MOP around ever single piece of Abalone in the Tree Of Life elements is spectacular. At first we just stared at this beauty for a long time, but we couldn't wait to hear it and what a gem. The voice is loud and clear, with wonderful power and resonance. This is not just a looker, it a real deal Martin Dread. We are delighted and honored to offer our customer this opportunity for a very rare and collectible Martin D-50 Koa Deluxe, #26 of just 50 ever made." -
Paul Heumiller
The Martin D 50 Acoustic Guitars
There are both a Martin D 50 Koa Deluxe, and a Martin D 50 Ultra Deluxe. The difference between the two masterwork guitars is that the Koa Deluxe is . . .made with Koa wood for it's back and sides, and the Ultra Deluxe is made with the even more expensive Brazilian Rosewood.

Basically - the Ultra Deluxe is a Martin D 45 GE with tons more abalone inlay virtually all over the thing, and shimmering like diamonds. Either guitar is a masterwork of fine art that is also a musical instrument that has none but the other version to compare itself to. There is no more beautiful or wonderful acoustic guitar made anywhere on planet Earth.

Though I've given the price above as in the general area of fifty thousand dollars, the facts are that if you have to ask, then you can't afford one. And because some of you may STILL think it insane that a musical instrument cost so much money - you clearly need to brush up on just what all is involved with a craftsman that spends so much time cutting so many tiny pieces of abalone shell for an instrument like this - and that person's health.
The Martin D 100.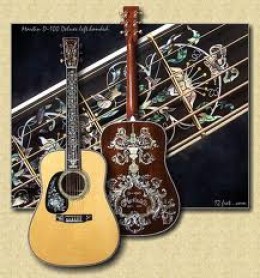 The Martin D 100.
Perhaps this is getting ridiculous, and I do think that that is the case. The Martin D 100 is surely a wonderful guitar, and for "just" $110,000.00 you may certainly have one. It's only that to me - an instrument like this isn't playable, it's too precious. Why bother? It's mostly Jewelry at this point. You are better off, in my opinion, with a Martin HD 28 VR, or even, could you afford it, the "mere" ten thousand dollar Martin HD 28 GE. I'm sorry, I'm only a fan of guitars that I can play without the constant fear of putting a ding in one of them. These things are more like sculpture , they are works of art. I do not know of a musician that owns and plays anything like this D 100. It's not going to happen. No one is going to tour with and perform well on a guitar like this. These more belong in a museum, in my opinion, but they certainly are beautiful to look at.
That above all said, my opinions are just that. It could be all that abalone inlay literally improves the sound of an instrument when applied so liberally. I doubt it, but stranger things happen more frequently than we like to admit. The work done to create a guitar with such detailed and ubiquitous inlay is astounding, amazing, and surely took a huge amount of time for the precision pieces to be cut and fitted just so. I'd personally be scared to touch such a guitar. The threat of theft is not so much to worry about...so few such instruments exist it would be difficult for a thief to steal one and then sell it for anything. The worry would seemingly always be it getting scuffed up. Myself, I'd never want a guitar more fancy than the Martin D-180. It's not a problem, I'll surely never be able to afford one of those either.