Now the Gibson J - 160E is an altogether historic guitar. Clearly, the Gibson J - 160E is the first major acoustic/electric production instrument that was ever available in the United States and beyond. The Beatles had made great use of the Gibson model acoustic/electric, and though both John Lennon and George Harrison had both owned and played them - it's John Lennon who mostly became the big name associated with the instrument. Good sense says that these guitars are way over priced.



John Lennon
Regardless of who you are, there is little doubt that if you are an adult and living in the Western World, then you most certainly know who John Lennon was. I think that it's safe enough to say that the majority of the persons who do know who John Lennon was at least are somewhat fond of maybe one song or another that he was a part of - even if you don't particularly like John Lennon, or the type of music that he'd created at all.
Most people who know who John Lennon was, however, are clear fans on one level or another - anywhere from rabid to casual. In any case, no one can really doubt that John Lennon left his mark not just on America, but on the entire world.

I, personally, definitely count myself as a fan of the music of both Lennon and McCartney, and John Lennon's solo work. I'm not the largest fan in the world, but then again there have been times where I just don't know what I would have been doing were I NOT enjoying the cleverness, the singing, and the experimental and sometimes simple music that the man had created.

Though it's clear that John Lennon wasn't a fabulous guitarist - he certainly could play the guitar, and often did so while singing, or simply while backing up whichever Beatle was doing the singing for a particular tune. Often times John Lennon did this on one of his Gibson acoustic guitars, and now Gibson has honored his contribution not only to popular music, but to their own success with two different models of Gibson John Lennon Guitar.
Both George Harrison and John Lennon Bought Gibson J 160E Acoustic/Electric Guitars.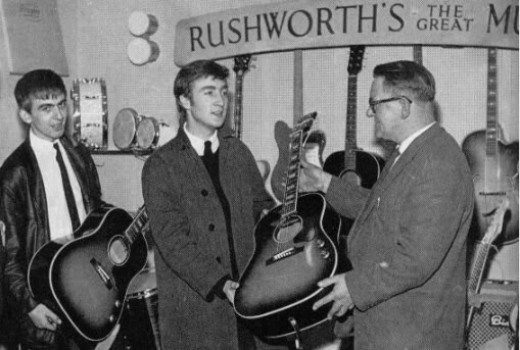 The Gibson J 160E
Now it's important to note here that the Gibson J - 160E existed before John Lennon had one, but because of Lennon's fame and use of the instrument, the Gibson J - 160E became so closely associated with not just John Lennon, but The Beatles as a group, that it's very fair that this guitar is now presented to the public with not one, not two, but three models with John Lennon's name on them.

Originally, the Gibson J - 160E was not such a fine instrument, in fact, the guitar was mostly plywood, and was ladder braced instead of X braced, as nearly all fine acoustic guitars are. The J - 160E was only Gibson's second attempt at making an acoustic electric guitar, and it featured an uncovered P90 pickup, and the electronics that go along with it.

One thing you can certainly be certain of - despite whatever the collectors inflated value is of an original Gibson J - 160E, the modern versions of those guitars are so vastly superior that the originals can't hold a candle to them so far as being a quality instrument is concerned.
An Original Gibson J - 160E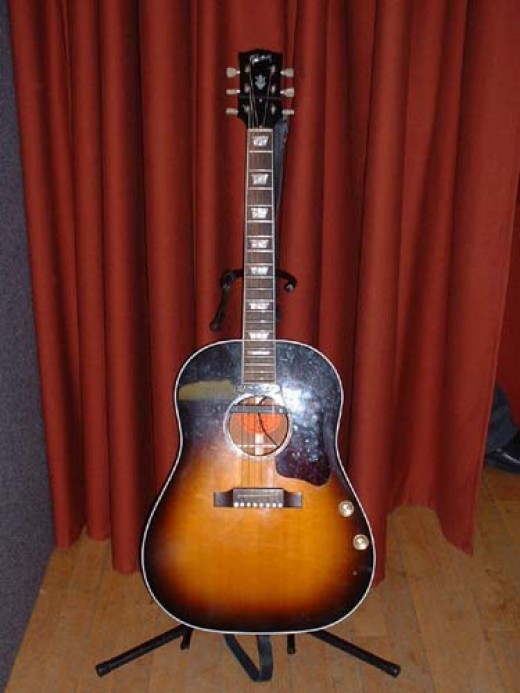 The 70th Anniversary John Lennon J-160E VS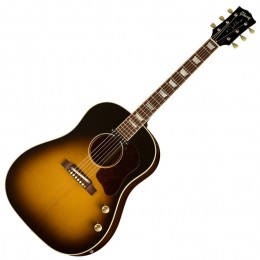 The Gibson J 160 IMAGINE or "Peace" Guitar.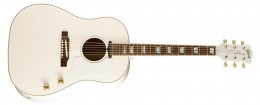 The Gibson J - 160E John Lennon Museum Guitar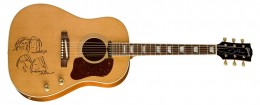 The Gibson J 160 E John Lennon Models
Now, I love the music of John Lennon - and I'm proud that Brian Epstein, the manager of The Beatles had decided to spend his own money to purchase these guitars for both John Lennon and for George Harrison - but I have to plainly state here - having John Lennon's name on a guitar in no way makes a guitar any better than another one. In fact - despite my appreciation for the
Gibson Guitar company
- it's my opinion that these guitars, as a player's instrument, are grossly over priced.
When it's all said and done - these guitars might make great collectors guitars - but they have laminated spruce tops - and for five hundred bucks, I can find you a better brand new model guitar that would have a SOLID
spruce top
on it, which in and of itself ALWAYS makes a guitar a superior instrument to ANY guitar with a laminated top on it - despite the signature series, and the manufacturer.
These newer Gibson models of the J - 160e with Lennon's name on them are surely better than the originals - but they still feature what Gibson is touting as something good - "traditional ladder bracing." It's just a plain fact that ladder bracing is far and away inferior a design for guitar tonality than is X bracing - which is what great acoustic guitars will always have with only a very few exceptions.
Now, keep in mind here that the Gibson J - 160E was one of the very first acoustic/electric guitars ever in production by anyone and anywhere - but the first clue that anyone should have, besides the laminated top sound board, is the knobs for the electronics being on the top - that's a sure sign that this guitar isn't going to be much good for playing unless it's plugged in. Why? Because the very sound of an acoustic guitar comes from the vibrations of the top, and having knobs on it means that there are restrictions to the vibrations of the sound board.
Most often when someone pays for a dreadnought acoustic/electric guitar - they intend to play it not just plugged in to an amp, but also wherever they may be. If you live in an apartment, it's quite natural that you can't play plugged in all the time - but this guitar would provide insufficient volume for playing unless it was plugged in, and this is because of the laminated top, the ladder bracing, and then the electronics placed into the top of the guitar. Modern designs for acoustic/electrics feature electronics in the less critical sides of the guitar.
The seventieth anniversary model - the cheapest guitar of these three John Lennon J - 160e guitars is priced at $ 4, 728.00 dollars.
Next up - the "peace model" which is in white, as Lennon's guitar was after he'd stripped off the finish during his and that Jap woman's "bed in." - it's priced at a ridiculous $10,748.00
Most absurd of all, the J - 160e Museum - which imitates the altered yet again - exact guitar that John Lennon owned, in the state that it is in now in a museum -for a grotesquely over priced $15,048.00
These guitars are decent guitars - and the video at bottom shows how a new one today sounds pretty much exactly how Lennon and Harrison's guitars sounded on the early Beatle's recordings. It sounds fine - but these guitars are so over priced that I'd never in a million years recommend one to anyone. For the money that these things cost - there are hundreds of models of superior instruments that you could purchase anywhere from two to five of.